See also: Bison
PASSENGER PIGEONS
In 1806 Alexander Wilson (American ornithologist) noted while watching a migratory flight:
"It was then half past one (when the birds first appeared in the sky). About four in the afternoon, the living torrent above my head seemed as numerous and extensive as ever."
Wilson estimated that in less than 3 hours he had seen a little more than 2 BILLION birds.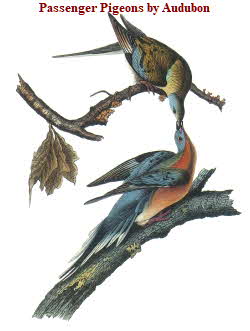 In 1813 John James Audubon watched a similar 'torrent' of life that lasted for 3 DAYS.

The last surviving bird died on September 1,1914 at the Cincinnati Zoo, having been commercially hunted to extinction.
(See Chestnut Trivia for additional facts about the birds extinction)

A monument to the passenger pigeon in a Wisconsin State Park declares:
"This species became extinct through the avarice and thoughtlessness of man."