See also: Article on PawPaws
PAWPAW
The Pawpaw (Asimina triloba) was designated as the Official Native fruit of Ohio in 2009.

The pawpaw or papaw is the largest edible fruit native to the United States. They are indigenous from northern Florida to Canada and as far west as Nebraska. Pawpaws has a unique blend of tropical flavors, combining banana, pineapple and mango.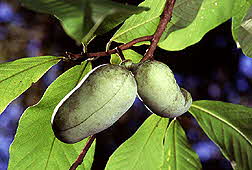 Common names for the pawpaw are 'poor man's banana,' 'American custard apple,' and 'Kentucky banana.'

The skin color of ripe fruit on the tree ranges from green to yellow, and dark flecks may appear, as on bananas. The skin of picked or fallen fruit may darken to brown or black. Ripe pawpaw fruits are easily picked, yielding to a gentle tug. Shaking the tree will make them fall off. Ripeness can also be gauged by squeezing gently, as you would judge a peach. The flesh should be soft, and the fruit should have a strong, pleasant aroma.

For extensive information about pawpaws visit the
Kentucky State University Pawpaw website:
http://www.pawpaw.kysu.edu/

Please feel free to link to any pages of FoodReference.com from your website.
For permission to use any of this content please E-mail: [email protected]
All contents are copyright © 1990 - 2022 James T. Ehler and www.FoodReference.com unless otherwise noted.
All rights reserved. You may copy and use portions of this website for non-commercial, personal use only.
Any other use of these materials without prior written authorization is not very nice and violates the copyright.
Please take the time to request permission.


FOOD TRIVIA and FOOD FACTS
FoodReference.com (since 1999)
FOOD TRIVIA and FOOD FACTS SECTION