See also: Parsley Family; Article on Parsley
PARSLEY (Petroselinum)

Parsley is the dried leaves of the hardy biennial herb Petroselinum crispum (family Umbelliferae). This is probably the most well-known and used herb in the United States, used extensively in garnishing foods as well as for flavoring of sauces, soups, stews and stocks. Curly leaf Parsley is best known for garnishing, while flat leaf or Italian Parsley is used in bouquets garni and other flavoring applications.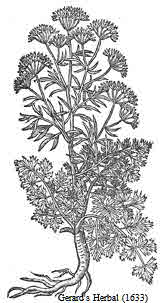 Italian parsley, Petroselinum crispum, is a plain flat leaved parsley, with darker green leaves than curly leaved parsley, and a stronger but less bitter flavor. It is best added during the last few moments of cooking for the best flavor, or sprinkled raw on salads, soups, fish, meat, etc.

Parsley is thought to have originated in Sardinia.

Parsley was used to flavor and garnish food as early as the third century B.C. The name 'parsley' comes from the Greek word petros, meaning 'stone,' because the plant was often found growing among rocks. In ancient times, wreaths were made with parsley and were worn to prevent intoxication. Parsley was brought to the New World by the colonists.

Parsley seed oil is used in shampoo, soap and men's perfumes.

Please feel free to link to any pages of FoodReference.com from your website.
For permission to use any of this content please E-mail: [email protected]
All contents are copyright © 1990 - 2023 James T. Ehler and www.FoodReference.com unless otherwise noted.
All rights reserved. You may copy and use portions of this website for non-commercial, personal use only.
Any other use of these materials without prior written authorization is not very nice and violates the copyright.
Please take the time to request permission.


FOOD TRIVIA and FOOD FACTS
FoodReference.com (since 1999)
FOOD TRIVIA and FOOD FACTS SECTION