PARTRIDGES
Partridges are highly prized small to medium sized, plump bodied game birds related to pheasants and native to Europe, Asia and Africa.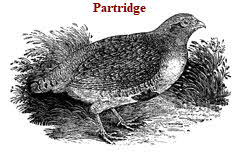 The use of the name partridge in the U.S. is very confusing. In varying parts of the country, the name Partridge is applied to the Bob White, the Quail and the Ruffed Grouse.
There are more than 45 different species, the 2 main varieties being the gray partridge (Perdrix perdrix) and the red-legged partridge (Alectoris rufa). They weigh from 1 to 3 pounds and are 6 to 18 in. long.

Partridges were introduced to North America in the late 19th and early 20th centuries.

There are 8,567 people in the U.S. listed on whitepages.com with the last name 'Partridge'
(Mark Morton, 'Gastronomica', Fall 2010)

Some Partridge Recipes:
Broiled Partridges (1904)

Partridge Stuffed with Raisins

FOOD TRIVIA and FOOD FACTS
Please feel free to link to any pages of FoodReference.com from your website.
For permission to use any of this content please E-mail: [email protected]
All contents are copyright © 1990 - 2023 James T. Ehler and www.FoodReference.com unless otherwise noted.
All rights reserved. You may copy and use portions of this website for non-commercial, personal use only.
Any other use of these materials without prior written authorization is not very nice and violates the copyright.
Please take the time to request permission.


FoodReference.com (since 1999)
FOOD TRIVIA and FOOD FACTS SECTION