PAPER BAGS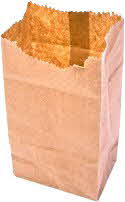 In 1871 Margaret Knight designed a machine to make brown paper bags with flat bottoms.


In 1873 Luther Childs Crowell was granted a patent for a machine which made square bottom paper bags. The same basic design is still used today.


More than 1.1 million brown paper bags are used in the U.S. every hour.