See also: Article on Paprika
PAPRIKA (Capsicum annum)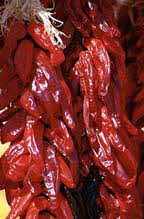 Paprika is the dried, ground pods of Capsicum annum, a sweet red pepper. It is mildly flavored and prized for its brilliant red color.
Early Spanish explorers took red pepper seeds back to Europe, where the plant gradually lost its pungent taste and became "sweet" paprika. A Hungarian scientist won the Nobel Prize for research on the vitamin content of paprika. Pound for pound, it has a higher content of Vitamin C than citrus fruit.
Domestic Paprika is characteristically fresh, green and vegetable-like, while the Spanish Paprika exhibits a more fermented and piquant flavor. Historically, the Central European varieties were more pungent, but they now exhibit a sweetness similar to Spanish Paprika.
Ninety percent of the international spice trade is in whole spices, paprika is only ground spice sold in any significant quantities. (Curry powder is the only spice blend that is of any commercial importance).

FOOD TRIVIA and FOOD FACTS
Please feel free to link to any pages of FoodReference.com from your website.
For permission to use any of this content please E-mail: [email protected]
All contents are copyright © 1990 - 2023 James T. Ehler and www.FoodReference.com unless otherwise noted.
All rights reserved. You may copy and use portions of this website for non-commercial, personal use only.
Any other use of these materials without prior written authorization is not very nice and violates the copyright.
Please take the time to request permission.


FoodReference.com (since 1999)
FOOD TRIVIA and FOOD FACTS SECTION