BARNACLES
Barnacles are actually Crustaceans and are related to lobsters, shrimp and crabs. There are about 1,000 species of barnacles.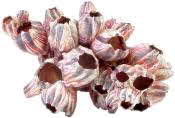 The gooseneck barnacle (a 'stalked' barnacle) has an edible foot, and is especially valued along along the coasts of Portugal, Spain and Morroco. They are now being farm raised in several areas, including Washington State.
During the Middle Ages, gooseneck barnacles were thought to be developing geese, and when they reached a certain size they would fall to the water and become full grown geese.
Barnacle geese breed in the summer north of the Arctic Circle, and spend their winters on the northern European coasts, seeming to appear from nowhere, hence the myth.
Since these geese (the barnacle goose and brant goose) came from shellfish, they were considered to be fish and could be eaten on days that meat was forbidden.
I wonder if this myth was really believed, or if it was just an excuse so people could sneak a bit of meat on fasting days?)

Please feel free to link to any pages of FoodReference.com from your website.
For permission to use any of this content please E-mail: [email protected]
All contents are copyright © 1990 - 2023 James T. Ehler and www.FoodReference.com unless otherwise noted.
All rights reserved. You may copy and use portions of this website for non-commercial, personal use only.
Any other use of these materials without prior written authorization is not very nice and violates the copyright.
Please take the time to request permission.
FOOD TRIVIA and FOOD FACTS
CULINARY SCHOOLS
& COOKING CLASSES
From Amateur & Basic Cooking Classes to Professional Chef Training & Degrees
FoodReference.com (since 1999)
FOOD TRIVIA and FOOD FACTS SECTION