BARLEY
Barley is the common name for any cereal grass of the Hordeum genus. Most of the world's barley crop is used for animal feed. A special variety is used in the production of malt for brewing beer. Barley is also used in the distillation of of alcoholic beverages, in the manufacture of vinegar and breakfast foods, and as a thickener in soups.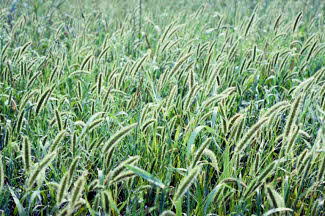 Barley is one of the oldest domesticated grain crops. It has been cultivated for over 8000 years. In Athens barley was, according to Pliny, the special food of the gladiators (the hordearii, or 'barley-eaters').
Barley is grown by the Aymara people on the highest cultivated plot of land in the world at 15,420 feet near Lake Titicaca. The lake is the border between Peru and Bolivia at 12,500 feet, and the area was home to one of the oldest civilizations in the Americas. The Aymara people that live there still practice ancient methods of agriculture. Potatoes and quinoa are also grown there at slightly lower elevations.
n about 1305, Edward I of England decreed that one inch should be the measure of three barleycorns, and English shoe sizing began; thus a child's shoe that measured 13 barleycorns became a size 13.
One foot was the measure of 39 barleycorns an a yard was set at 117 barleycorns.

Historians report that up until the 16th century, it was the most important grain on the European continent. It was also used as currency and as a measuring standard.
Almost half the United States crop of barley is used for brewing beer and most of the rest is used for feeding livestock.

Please feel free to link to any pages of FoodReference.com from your website.
For permission to use any of this content please E-mail: [email protected]
All contents are copyright © 1990 - 2023 James T. Ehler and www.FoodReference.com unless otherwise noted.
All rights reserved. You may copy and use portions of this website for non-commercial, personal use only.
Any other use of these materials without prior written authorization is not very nice and violates the copyright.
Please take the time to request permission.
FOOD TRIVIA and FOOD FACTS
CULINARY SCHOOLS
& COOKING CLASSES
From Amateur & Basic Cooking Classes to Professional Chef Training & Degrees
FoodReference.com (since 1999)
FOOD TRIVIA and FOOD FACTS SECTION