See Also: Bringing home the bacon
BACON TRIVIA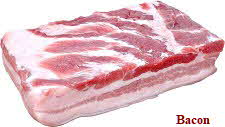 Originally the word 'bacon' was used for any type of pork.
Bacon is cured and smoked pork. In the U.S. pork bellies are used, Canadian bacon is made from the rib eye of boneless pork loin, and most European countries use the ham (thigh) or shoulder to make bacon.
There are 24,872 people in the U.S. listed on whitepages.com with the last name 'Bacon'
(Mark Morton, 'Gastronomica', Fall 2010)
More than 2 billion pounds of bacon is produced in the U.S. each year.

Regular sliced bacon is .062 inches thick (1/16 inch) 16 - 20 slices per pound. Thin sliced bacon is .031 inches thick (1/32 inch) 28 - 32 slices per pound, and thick sliced bacon is .111 inches thick (1/8 inch) 10 - 14 slices per pound.
The BLT, (Bacon, Lettuce and Tomato sandwich) became popular when fresh lettuce and tomatoes became available year round with the rapid expansion of supermarkets after World War II.

CULINARY SCHOOLS
& COOKING CLASSES
From Amateur & Basic Cooking Classes to Professional Chef Training & Degrees - Associates, Bachelors & Masters - More than 1,000 schools & classes listed for all 50 States, Online and Worldwide
FOOD TRIVIA and FOOD FACTS
Please feel free to link to any pages of FoodReference.com from your website.
For permission to use any of this content please E-mail: [email protected]
All contents are copyright © 1990 - 2023 James T. Ehler and www.FoodReference.com unless otherwise noted.
All rights reserved. You may copy and use portions of this website for non-commercial, personal use only.
Any other use of these materials without prior written authorization is not very nice and violates the copyright.
Please take the time to request permission.
FoodReference.com (since 1999)
FOOD TRIVIA and FOOD FACTS SECTION