BAOBAB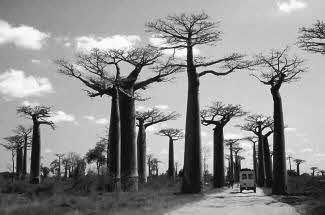 The baobab (Adansonia digitata) is a native to tropical Africa. Slow growing, It grows to a height of 25 to 40 feet, but 1,000 year old trees may have a 30 foot diameter trunk, with roots reaching out more than 100 feet, and its foilage may reach 150 feet in diameter.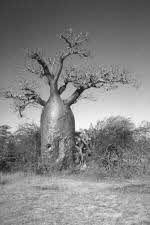 The fruit of the baobab tree is called monkey bread. The fruit is eaten as is, or is used to make a drink, it's flesh is dried and ground into flour, and the leaves are dried and crushed for flavoring. Even the pulp of the tree is sometimes eaten.
The Baobab is one of the largest trees in the world; Dr. Livingston ('I presume') considered it to be a kind of giant carrot that someone had planted upside down.

CULINARY SCHOOLS
& COOKING CLASSES
From Amateur & Basic Cooking Classes to Professional Chef Training & Degrees - Associates, Bachelors & Masters - More than 1,000 schools & classes listed for all 50 States, Online and Worldwide
FOOD TRIVIA and FOOD FACTS
Please feel free to link to any pages of FoodReference.com from your website.
For permission to use any of this content please E-mail: [email protected]
All contents are copyright © 1990 - 2023 James T. Ehler and www.FoodReference.com unless otherwise noted.
All rights reserved. You may copy and use portions of this website for non-commercial, personal use only.
Any other use of these materials without prior written authorization is not very nice and violates the copyright.
Please take the time to request permission.
FoodReference.com (since 1999)
FOOD TRIVIA and FOOD FACTS SECTION