BAOBAB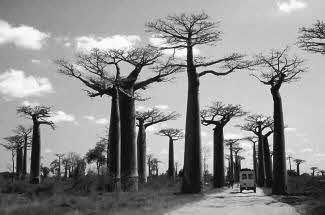 The baobab (Adansonia digitata) is a native to tropical Africa. Slow growing, It grows to a height of 25 to 40 feet, but 1,000 year old trees may have a 30 foot diameter trunk, with roots reaching out more than 100 feet, and its foilage may reach 150 feet in diameter.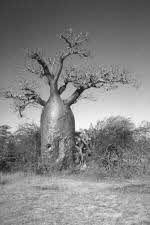 The fruit of the baobab tree is called monkey bread. The fruit is eaten as is, or is used to make a drink, it's flesh is dried and ground into flour, and the leaves are dried and crushed for flavoring. Even the pulp of the tree is sometimes eaten.
The Baobab is one of the largest trees in the world; Dr. Livingston ('I presume') considered it to be a kind of giant carrot that someone had planted upside down.