See also: Chiquita Banana; Kitchen tips on Bananas
Banana Bread Article; Banana Bread Recipes
BANANA TRIVIA
Ripe bananas glow bright indigo under a black light (ultraviolet or UV). Researchers believe this is a 'lunch is ready' signal to banana eating animals like insects and bats that can see UV light.

The banana is classified botanically as a true berry - a many seeded pulpy fruit.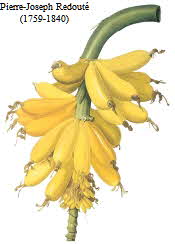 Supposedly, one of the first shipments of bananas to reach the colonies was in 1690 at Salem, Mass. They tried boiling them with pork. It took nearly 200 years after that culinary disaster for bananas to catch on with North Americans.

There are 44 people in the U.S. listed on whitepages.com with the last name 'Banana'
(Mark Morton, 'Gastronomica', Fall 2010)
Bananas first appeared in the United States in 1804. They were introduced to the public at the Philadelphia Centennial Exposition of America in 1876 and sold for 10 cents a piece, equal to average hourly wage of a working man.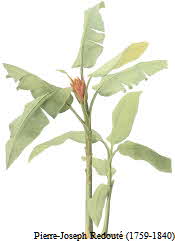 Today, average U.S. banana consumption is almost 30 pounds per year.

There are more than 500 different varieties of bananas.
Bananas trees are not trees. The banana plant is a giant herb.

Unripe bananas have about 25% starch and only 1% sugar. Natural enzyme action converts this high starch content to sugar, so ripe bananas have a 20% sugar content.
In the 15th and 16th centuries, Europeans knew the banana as the "Indian Fig".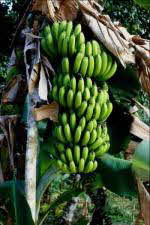 The terms 'bee's knees,' 'the cat's pajamas,' and 'Yes, we have no bananas' were all coined by American cartoonist Tad Dorgan.

One variety of banana, the 'Ice Cream Banana', is BLUE. It turns yellow like other bananas when ripe, and has a taste like vanilla custard and a marshmallow texture.
'Red bananas' are maroon to dark purple when ripe, and even the fruit inside can have a slight pinkish color.

The average banana contains .6 grams fat.
Until the early 1800s in Hawaii, most banana varieties were 'kapu' - forbidden for women of Hawaii to eat, under penalty of death.

The very heart of the trunk of a banana 'tree' - inside the layers of bark fiber, is a white tube. It may be cooked, and has a taste and texture similar to bamboo shoots.
India, with rich bio-diversity of banana and plantain, is the largest producer and consumer with estimated production of 16 million tonnes of bananas annually. India's domestic production alone exceeds the entire world trade.