2016 CROATIA 2016
Festivals, Shows, Exhibitions, Expos
(see also: 2014 - 2013 - 2012 - 2011)

February 15-18, 2016 51st Croatian & 11th International Symposium on Agriculture
Opatija, Croatia
The symposium presents to agronomists and the general public the results of scientific and professional work of Croatian and international specialists.

February 18-21, 2016 HOTEL & GASTROTEH 2016
Zagreb, Croatia
8th International Hotel and Restaurant Equipment and Catering Fair

February 23-26, 2016 44th International Symposium "Actual Tasks on Agricultural Engineering"
Opatija, Croatia
The aim of the Symposium is to present the latest scientific results on all aspects of research, design and development work in the various disciplines of agricultural engineering.

September 29-October 2, 2016 Healthy Living Fairs
Zagreb, Croatia
Healthy Living Fairs: ORGANICA - 7th Healthy Food Fair - APITERA - 2nd Fair of Beekeeping - MYSTIC - ALTERNA - 7th Fair of Alternative Lifestyle

2014 CROATIA 2014
Festivals, Shows, Exhibitions, Expos

these events waiting for new dates
February 19-22, 2014 INGA 2014 - Zagreb, Croatia
6th International Fair of Food, Drinks & Innovative Gastronomy.
April 12-13, 2014 Fishermen To Their Town
Koprivnica, Croatia
Competition in the preparation of Fish Stew. Great gastronomic offer of fish dishes (fish stew and fish baked on a fork) with the possibility of fishing in the pool (as sport fishing or shopping of the catched fish)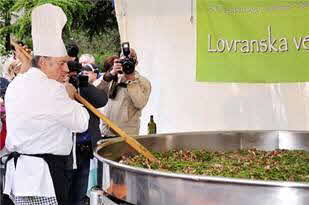 April 12-27, 2014 14th Asparagus Festival
Lovran, Croatia
The festival is held every year in the month of April. During the two week festival the local restaurants will feature a variety of wild asparagus dishes, while the program also features live music in town squares and more. A special, 6.5 foot wide pan was made to accommodate the 66 pounds of wild asparagus and 1,000 eggs to be made into a giant frittata to kick off the annual Asparagus Festival in the coastal town of Lovran in Croatia. The large frittata is made each year in the town square to mark the first day of the festival.
June 7-15, 2014 Lovran Days of Cherries
Lovran, Croatia
The renowned Lovran cherry is very similar to the well-known Lambert sort. The locals called them Brtosinka and their quality and taste is well known and highly regarded. During the Cherry Festival, held in the month of June, Lovran's taverns and restaurants offer cherry deserts and meals featuring cherries.
July 5, 2014 Evenings of the Fishermen
Rovinj, Croatia
Rovinj remembers the tradition of its fishermen returning in the evening with the day's catch. The celebrations of old customs include building a batana, a local type of fishing boat. Its launch attracts the entire town to the port.

July 5, 2014 Fisijada - Slavonski Brod, Croatia
Enjoy Fis, a spicy fish soup. Around one hundred competitors participate in the friendly cooking competition. Music and Slavonian wines make the atmosphere all the better.

July 6, 2014 Gastronomy Festival - Fazana, Croatia
Fešta od kužine (Gastronomy festival) – competition in preparing traditional Istrian maneštra, a thick vegetable soup; presenting traditional crafts related to Istrian cuisine. Held on Fažana's waterfront.
August 2, 2014 Pilchard Festival 2014 - Fazana, Croatia
The festival celebrates Fazana's symbol, pilchard, a small oily fish. The entire world of fishing, entertainment and leisure unfolds in a variety of events. Many competitions are organized--rowing, tug of war and carrying fish crates. Local restaurants display thier gastronomic skills.
August 23, 2014 Valbandon Under The Baking Lid
Valbandon, Croatia
Competition in preparing dishes in a traditional Istrian way, under a baking lid cripnja, tasting Istrian wine and olive oil, Watermelon festival. Covered with live coals, the baking lid cripnja/peka conceals a variety of ingredients for the remarkable encounter of lovers of delicious, traditional Istrian cuisine. To be proclaimed master of preparing dishes under the baking lid is recognition of true knowledge and skill, so that each year there is an increasing number of chefs participating in this event in Valbandon. Lamb, donkey, mushroom, octopus, ray, different kinds of fish... an entire menu of creations and experiences awaits under the baking lid.
October 12, 2014 Fažana's Delights And Delicacies
Fazana, Croatia
Gilthead and mushrooms along with the tasting of Istrian wine, olive oil, cheese, honey... gastronomy festival at Fažana's waterfront and in the restaurants of Fažana and Valbandon

November 9, 2014 Fažana's Delights And Delicacies
Fazana, Croatia
Istrian maneštra and sole along with the tasting of Istrian wine, olive oil, cheese, honey ... gastronomy festival at Fažana's waterfront and in the restaurants Fažana and Valbandon
2013 CROATIA 2013
Festivals, Shows, Exhibitions, Expos

these events waiting for new dates
April 19-20, 2013 Zagreb Wine Gourmet Festival
Zagreb, Croatia
Lectures, workshops, wine tastings, cooking shows and culinary presentations will be part of the two day programme. A unique meeting point for the professionals (wine producers, distributors, oenologists, hotel and restaurant owners and f&b managers, sommeliers, journalists), as well as an exceptional opportunity for wine connoisseurs, gourmets and foodies to taste high quality wines, the best gastronomic products, and culinary specialties of renowned chefs.
April 26-28, 2013 Drobnica Fest - Krk, Croatia
Exhibition of Krk's agricultural products, olive oil and wine exhibition and sales, tastings, lectures and display of cultivation tools.

May 28-June 2, 2013 Urbanovo - Strigova, Croatia
Urbanovo, Days of Wine in the County of the Zrinski, is a traditional international event, promoting Medimurje wines and traditional culinary specialties. Enjoy wine games, open cellars and more.
May 31-June 2, 2013 Festival of Local Food, Drink & Folklore - Biograd na Moru, Croatia
Food, drink and local products as far as the eye can see on a six hundred meter long table. There are over 230 exhibitors all on the same table, located by the waterfront.
September 14-18, 2013 KinOkus Film Festival
Ston, Croatia
Festival of food and film organized by Slow Food Dubrovnik

October 4-6, 2013 Chestnut Festival
Hrvatska Kostajnica, Croatia
In addition to trying various dishes made of baked and boiled chestnuts and sweets made of delicious chestnut puree, all visitors are invited to take part in the chestnut harvest.
October 11-27, 2013 40th Marunada Festival
Lovran, Croatia
A tradtional gastronomic event featuring assorted dishes and pastry and other foods made with the famous Lovran sweet chestnuts. The festival is accompanied by a series of sports and entertainment events.

October 19, 2013 17th Mushroom Days (Gljivarijada)
Stubicke Toplice, Croatia
A traditional gathering of mushroom hunters, closing with a guest lecture and tasting of mushroom delicacies prepared over an open fire.
November 2-3, 2013 Weekend of Truffles - Buzet, Croatia
The Buzet area is rich in truffles--the world-known white truffles harvested in early autumn and the black truffles found in both winter and summer. The fair includes a gastro exhibition and sale, entertainment, folklore and more.
2012 CROATIA 2012
Festivals, Shows, Exhibitions, Expos
these events waiting for new dates
March 31-April 4, 2012 Anglers For Their Town
Koprivnica, Croatia
Up to six hundred liters of traditional paprika seasoned fish stew are prepared in giant pots by the most skillful cooks. The festival celebrates angling and freshwater fish, a true gourmet delight.

May 9-12, 2012 VINOVITA 2012 - Zagreb, Croatia
17th International Fair of Wine and the Equipment for Viticulture and Viniculture
May 27-June 3, 2012 14th Vinodar Wine Exhibition
Daruvar, Croatia
Professional lectures, expert evaluation of wines, round tables dedicated to cultivation of grape vines and production of wine. The urban center is transformed into a fair offering a rich gastronomic experience, with live music and displays of traditional trades.

July 1-31, 2012 Harvest and Threshing in the Past
Zupanja, Croatia
Participate in events celebrating the hard work and beauty of harvest customs. Savor food and drinks typical of harvest time, enjoy handicrafts and ride in a horse-drawn carriage.
2011 CROATIA 2011
Festivals, Shows, Exhibitions, Expos
these events waiting for new dates
April 23, 2011 Feast of St. George in Turopolje
Velika Gorica, Croatia
The feast of St. George, patron saint of land, crops, vegetation and cattle, marks the actual beginning of spring. The festivities are based on traditional music and folk customs.

May 1-30, 2011 Days of the Samobor Custard Slices
Samobor, Croatia
Samobor is popular among gourmets for its homemade custard slices--delicious cake made of flaky pastry and cream, served warm. According to local custom, this pastry opens all doors; should you have a disagreement with someone, give them a custard slice and all will be forgiven.
May 26-29, 2011 Krk's Wine Promenade - Krk, Croatia
Guided tastings of Croatian wines, lectures, and watercolor painting with wine (a technique known as vinorel) workshop. Enjoy music and gastronomic delicacies in the town's streets.

July 17, 2011 Nin Sokol Festival - Nin, Croatia
The tradition of šokol - a dish prepared with dry-cured pork neck in the region of Nin, reaches back to the 17th century. Each family is said to have its own recipe. The competition culminates with the presentation of the Sokol Maker of the Year award.
September 9-11, 2011 Ilok Grape Harvest Festival
Ilok, Croatia
The event ensues from an old Srijem custom known as pudarina, where commoners gathered at the beginning of the harvest to guard the vineyards, prepare the work and celebrate a good year and yield. Enjoy cultural programs, workshops, sports events and concerts.

September 18-24, 2011 Big Game Fishing
Jezera, Croatia
Some of the best fishermen in the world take part in this Big Fish fishing competition. The event revolves around fish and what is caught is eaten.
October 1-10, 2011 Days of Olives - Punat, Croatia
A unique opportunity for to take part in the olive harvest and experience a small part of the islanders" daily routine. A true feast is served come evening with the best cooks from all over Croatia competing in preparing olive based dishes for you to try.

October 19-21, 2011 6th International Congress Flour-Bread - Opatija, Croatia

October 19-21, 2011 8th Croatian Congress of Cereal Technologists - Opatija, Croatia