CHEDDAR AND TOMATO QUESADILLAS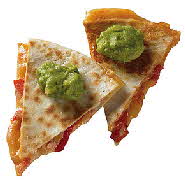 Makes 34
Ingredients
• 8 large (8-inch) flour tortillas
• 8 ounces Cabot Chipotle or Hot Habanero Cheddar, grated (about 2 cups)
• 4 plum tomatoes, thinly sliced
• 1 container guacamole

Directions
1. Sprinkle half of cheese over four tortillas. Top with tomato slices and remaining cheese. Press remaining tortillas on top.

2. Set large skillet over medium heat until hot. Place first quesadilla in skillet and cook until browned on underside, about 1 minute.

3. Turn with spatula and cook until quesadilla is browned on second side and cheese is melted, about 1 minute longer.

4. Repeat with remaining quesadillas. (Keep cooked ones warm in 200ºF oven if not serving immediately.)

5. Cut each quesadilla into eight pieces; top each with dollop of guacamole.

Nutrition Analysis
Calories 94 , Total Fat 6g , Saturated Fat 2g , Sodium 210mg , Carbohydrates 8g , Dietary Fiber <1g , Protein 3g , Calcium 20mg
Recipe & photo from Cabot Creamery Cooperative
www.cabotcheese.com
Recipe courtesy of Chef Jon Ashton