Fresh Blueberry Warm Compote And Brie Cheese Crostini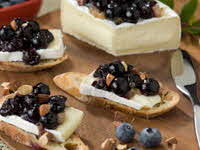 Let's party. Let's create a festive atmosphere that sparkles and shines. A surefire way to do this is by offering special taste sensations. Whether the party's at your house or you're taking along something fabulous as a good guest, it's fun to pair extraordinary flavors for exciting party fare. For a party-pleasing delight this winter try the unexpected enchantment of fresh blueberries in a tangy compote .Add to a creamy brie on a crunchy crostini. A quick sauté with fresh mint leaves the blueberries plump and seals in the unmistakable field-fresh flavor. Fresh blueberries from Chile - where it is summer during our winter – add extra dazzle to this perfect holiday appetizer.
Makes 8 Servings

Ingredients
• 1/2 red onion, diced
• 2 tablespoons olive oil
• 2 tablespoons fresh mint, minced
• 2 cups fresh blueberries
• 1/2 cup sugar
• 2 tablespoons red wine vinegar
• 1/2 cup apple juice
• 6-8 oz. brie, sliced
• 16 slices of baguette, toasted
• optional garnish: chopped candied almonds

Directions
Sauté onion in olive oil in a medium sauté pan until tender, about 5 minutes. Add mint, blueberries, sugar, vinegar and juice. Cook until juice reduces and sugar dissolves, 10 to 15 minutes.
Let mixture cool to warm or room temperature.

To assemble: arrange baguette slices on platter.
Top with a slice of brie.
Spoon on blueberry compote.
Serve at room temperature.

Photo Copyright © 2010 Chilean Fresh Fruit Association Media Center
Recipe Courtesty Chilean Fresh Fruit Association