CHEDDAR AND ROASTED PEAR CANAPES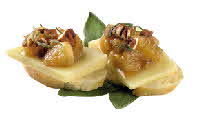 Makes about 2 dozen
Ingredients
• 4 ripe pears (any kind), peeled,
• 2 tbsp. brown sugar
• 1 tbsp. olive or vegetable oil
• 1 tbsp. balsamic vinegar
• 24 slices from thin French bread baguette
• 8 oz. Cabot Extra Sharp or Sharp Cheddar
• 1/3 cup chopped toasted pecans
• thinly slivered fresh sage leaves

Directions
1. Place rack in lower third of oven and preheat oven to 400º F.

2. In 8-inch pyrex or similar casserole, toss together pears, sugar and oil until well combined; spread in even layer. Bake for 15 minutes.

3. Stir pears, then return to oven for 10 - 15 minutes longer or until sugar has begun to caramelize and pears are browned. Add vinegar to dish and stir to distribute. Bake pears for 5 minutes longer.

4. Remove from oven and let cool.(Pears can be prepared up to 1 week ahead and refrigerated until ready to use.)

5. Top each bread round with slice of cheddar. Add heaping teaspoon of roasted pears, sprinkle of pecans and slivers of sage.
Nutrition Analysis
Calories 298 , Total Fat 11g , Saturated Fat 5g , Sodium 463mg , Carbohydrates 40g , Dietary Fiber 3g , Protein 10g , Calcium 50mg
Recipe & photo courtesy of Cabot Creamery Cooperative
www.cabotcheese.com