SWEET POTATO HASH BROWNS WITH PARMESAN SAUCE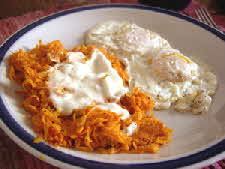 Man does not live by bread alone; a few veggies are nice. We discovered that you can make quick and easy hash browns with grated sweet potatoes or yams. They are neutral in flavor and can be paired with various sauces or spices. They work for breakfast or brunch or as a side dish with dinner. And they cook in almost no time.
In this case we paired Sweet Potato Hash Browns with fried eggs and Parmesan Sauce. The Sweet Potato Hash Browns are different and mild tasting. The Parmesan Sauce accents the dish. Because the sweet potatoes are grated, this dish cooks up very quickly. It's easy and good for you.
Recipe courtesy of the Prepared Pantry - Dedicated to helping you bake with time-saving baking mixes, quality tools, hard-to-find ingredients, and some of the best baking information on the web.

Ingredients
• 2 tablespoons butter
• 1 large sweet potato or yam
• 1/4 teaspoon salt or to taste
• pepper
• 1 teaspoon dried basil or parsley (optional)

Directions
1. Melt the butter in a large skillet.

2. Peel and grate the sweet potato.

3. Add the salt, pepper, and optional herbs and sauté the sweet potatoes until they are just tender and not soft. Serve them hot.

Parmesan Sauce Recipe
This is simply a white sauce with parmesan cheese added. It's quick and easy.
Ingredients
• 2 tablespoons butter
• 1 tablespoon cornstarch
• 1/4 teaspoon salt
• pepper
• 1 1/4 cups milk
• 1/3 cup grated parmesan cheese

Directions
1. Melt the butter in a medium saucepan.

2. Add the cornstarch, salt, and a sprinkling of pepper. Stir together into a paste.

3. Add the milk and whisk until smooth. Cook over medium heat, stirring often, until the sauce is thick and bubbly. Add the parmesan and stir smooth.