SWEET POTATOES & CARROT A L'ORANGE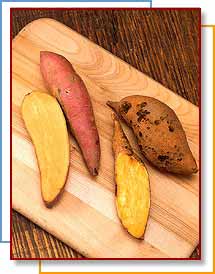 Makes 4 servings.
This is an official 5 a Day recipe.

Ingredients
• 2 cups thinly sliced sweet potatoes (1 large)
• 1 cup sliced carrots
• ½ cup orange juice
• 1 tsp. orange peel, grated
• 1 tsp. lemon juice
• 1 tsp. cornstarch
• 1 Tbsp. water
• 2 Tbsp. slivered almonds or pecan pieces

Boil or steam sweet potatoes and carrots until tender throughout.

When they are almost finished cooking, heat orange juice to boiling in saucepan.

Add the orange peel and lemon juice.

Dissolve the cornstarch in the 1 Tbsp. water and add to orange mixture.

Continue to heat, stirring until thickened.

Remove vegetables from pan and place in serving dish.

Drizzle orange sauce over it and sprinkle nuts on top.

Nutritional analysis per serving: Calories 101, Fat 2g, Fiber 4g, Cholesterol 0mg, Sodium 23mg, Carbohydrates 73%, Protein 8%, Fat 19%.