FRICASSEED CHICKEN RECIPE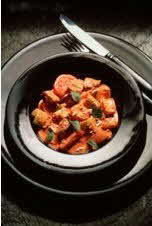 INGREDIENTS:
· 1 3½ to 4 pound frying chicken, cut into 12 pieces
· 1 large fresh lime
Seasoned Rub:
· 4 cloves fresh garlic, minced fine
· 1 teaspoon paprika
· 1 teaspoon ground ginger
· 1 teaspoon seasoned salt
· 1 teaspoon black pepper
· 1 large onion, sliced thin
Sauce:
· 2 large yellow onions, chopped
· 3 large ripe tomatoes, diced
· 4 scallions, chopped
· 1 teaspoon thyme
· 1 teaspoon Tortuga Hell-Fire Hot Pepper Sauce or 1/16th teaspoon minced Scotch Bonnet
· 1 teaspoon seasoned salt
· 1 teaspoon black pepper
· 1 cup chicken broth plus 1½ cups if needed
· 3 tablespoons Tortuga Dark Rum
· 1/2 cup vegetable oil

DIRECTIONS:
Wash the chicken parts with cold water & lime juice and pat dry.

Combine the first five ingredients for the seasoned rub in a small bowl & mix well.

Rub each chicken piece well & place with onion slices in a large zip-top freezer bag. Refrigerate for 12 hours or longer, turning several times.

Remove chicken from bag & scrape off the seasonings & reserve.

Heat the vegetable oil in large skillet.

Brown chicken on all sides over medium-high heat, about 15 minutes. Reduce heat to simmer & add chopped onions, reserved rub seasonings, scallions, thyme, tomatoes, pepper sauce or whole pepper, seasoned salt, pepper, 1 cup chicken broth & 3 tablespoons Tortuga Dark Rum.

Stir to distribute seasonings & make sure chicken does not scorch. Cover & simmer over low heat, stirring occasionally, adding chicken stock from time to time if needed, for an hour or until chicken is fork tender.

Do not add too much broth - gravy should cook down & not be watery.

Add more salt & pepper if needed.

Recipe and photo courtesy of
( www.caribbeanshoppingchannel.com )