FRENCH'S CRUNCHY ONION CHICKEN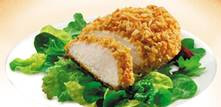 Prep Time: 5 min.
Cook Time: 20 min.
Makes 4 servings

Ingredients
• 2 cups (4 oz.) French's Original or Cheddar French Fried Onions
• 4 boneless skinless chicken breasts
• 1 egg, beaten

Directions
1. Place French Fried Onions in plastic bag. Lightly crush with hands or with rolling pin. Transfer to pie plate or waxed paper.

2. Dip chicken into egg; then coat with onion crumbs, pressing firmly to adhere. Place chicken on baking sheet. Sprinkle with additional crumbs, if desired.

3. Bake at 400°F for 20 min. until no longer pink in center.

Recipe & Photo Courtesy of French's French Fried Onions