The Tree of Life
FOOD FOR THOUGHT - Dec 7, 2005 - Mark R. Vogel - [email protected] - Archive

Recipes below
The coconut probably originated in Malaysia and/or Indonesia but a few sources make an argument for South America. Wherever its genesis, it quickly spread throughout the tropics of the Pacific and Indian oceans. In the 6th century, Arab merchants brought the coconut to Egypt from East Africa.
Seven hundred years later Marco Polo, obviously aware of this historical transferal, dubbed the coconut "Pharaoh's Nut" when he encountered them in India. But it's the 15th century Portuguese explorers who came across the coconut on Indian Ocean islands who are credited with giving it its current name. On one end of the coconut are three holes or "eyes." These indentations are germination pores where the seedlings would eventually emerge. Resembling the face of a monkey, the Portuguese supposedly used the term "coco", meaning monkey face. Despite the fact that coco was paired with the word nut, coconuts are actually fruits.
The coconut palm is known as the "tree of life" because it is one of the most useful trees in the world. In addition to its food value, there are innumerable uses for the tree and its fruit including soap, cosmetics, rope, lumber, fuel, fertilizer, charcoal filters, and a host of domestic products that are woven from the leaves.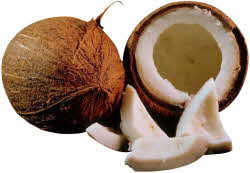 The center of the coconut contains the liquid which is employed in drinks and can be incorporated into other coconut based concoctions. It should not be confused with coconut milk which is made from simmering water with the coconut meat. Coconut cream is concentrated coconut milk, created by using less water. Coconut oil is the oil found within the coconut meat and is utilized in baked goods, candies, and a number of non-food applications. The coconut meat is used in a variety of preparations, the most well known being pies, cakes, custards, and other baked goods. One coconut will yield one cup of liquid and 3-4 cups of grated meat. Processed coconut comes in bags, (in flaked or dried form), and cans, sweetened and unsweetened.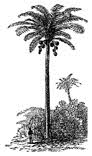 Coconuts are available year round with a peak season between October and December. Choose specimens that are heavy for their size, sound full of liquid when shaken and have dry eyes. They can be stored at room temperature for up to 4 months. Opened coconut will last in the fridge for up to 4 days. Coconuts contain calcium, potassium and B vitamins. They are high in saturated fat, but allegedly the saturated fat in coconuts isn't stored as readily in the human body as is animal based saturated fat. Coconuts are purported to actually lower cholesterol and heart disease. They also contain lauric acid which is reputed to have anti-viral, anti-bacterial and anti-fungal properties as well as boost the immune system.
To open a coconut, first pierce the eyes with an ice pick or by twisting one blade of a narrow scissor into them. Remove all the liquid. Place the coconut in a sturdy plastic bag and either whack it with a hammer or swing it into the ground. Whatever flesh is still left clinging to the shell can be removed by inserting a knife between it and the shell and twisting. If desired, peel the papery brown skin off the flesh with a peeler.

RECIPES
COCONUT CURRY CHICKEN
You'll have to visit an Asian supermarket for this recipe. There you'll find the coconut cream, (coconut milk is found in regular supermarkets but the cream is more elusive), the curry paste, fish sauce, Thai chiles, and Thai basil. Thai chiles by the way, although very small, are very hot. Two or three or will impart significant heat in this dish. If you crave the burn, use five or six.
INGREDIENTS:
1 lb. chicken, boneless & skinless thighs or breasts, cut into bite size pieces
Salt and pepper to taste
2 oz. coconut cream
3 tablespoons red curry paste
1 onion, sliced
4 scallions, green and white parts, sliced
12 oz. coconut milk
1½ tablespoons fish sauce
1 tablespoon sugar
Thai chiles, or other hot peppers, minced, to taste
Thai basil or regular basil, chiffonade, to taste

DIRECTIONS:
Season the chicken with salt and pepper. Heat the coconut cream in a large skillet until it starts to bubble. Dissolve the curry paste in the cream and cook for one minute. Add the chicken, onion and scallions to the skillet. Cook for five minutes. Add the coconut milk, fish sauce, sugar, and hot pepper. Simmer for five more minutes. Adjust seasoning if necessary with extra salt and pepper. Remove from the heat, add a generous sprinkling of basil and serve.


COCONUT SORBET
INGREDIENTS:
8 ounces sweetened coconut milk
16 ounces water
1/4 cup toasted coconut
Diced pineapple, as needed for garnish
DIRECTIONS:
Combine the coconut milk and water and chill in the refrigerator until cold. To toast coconut, simply cook the flakes in a skillet over low to medium heat until they just start to turn golden in color. Process the liquid in an ice cream machine according to the manufacturer's directions. Add the toasted coconut to the frozen coconut sorbet by stirring it in using a spoon. Keep frozen until ready to serve. Serve in halved coconut shells with diced pineapple for garnish