CALIFORNIA DRIED PLUMS
Plum comes from Latin a prunum, a "plum." Prunum was borrowed into the Germanic languages at a very early date, before the Anglos and Saxons settled in Britain. The Old English form was, which became plum in Modern English.

Dried plums are a fruit with an ancient heritage. Western Asia, more specifically an area near the Caucasus Mountains bordering the Caspian Sea, is the recorded point of origin. From there, dried plums were carried westward and eventually found their way into South Central, Western Europe and the Balkans where they have thrived ever since.
Plum trees were introduced to North American soil in 1856 by Louis Pellier. Pellier was a French nurseryman who came to California in 1848 in search of gold. After his unsuccessful mining venture, he purchased land in the fertile Santa Clara Valley (1850) and went back into the nursery business. His brother, Pierre, joined him in 1851, and in 1854 Pierre returned to France to secure a variety of fruit cuttings for nursery stock.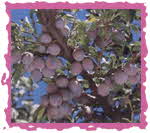 The original d'Agen plum graft stock was in the selection he brought back to California in 1856. By 1900, dried plum orchards in California covered approximately 90,000 acres.

Dried plum varieties can be dried without fermenting while still containing the pits. This is not true of all varieties of plums. The California dried plum is an offshoot of La Petite d'Agen, a native of Southwest France. At maturity, it has a royal purple outer skin and amber colored flesh.
Today, there are more than 80,000 high production acres concentrated in the Sacramento, Santa Clara, Sonoma, Napa and San Joaquin Valleys. Currently, these acres produce more than twice as many dried plums as the rest of the world combined: approximately 99 percent of the U.S. supply and 70 percent of the world supply.

California's rich valley soil, the long, warm growing season, an abundant supply of irrigation water and the application of the most modern agricultural practices, enable the fruit to reach full maturity on the trees under continuous ideal growing conditions. Thus, these orchards produce fruit with maximum flavor, ideal fruit size, fine texture, high sugar content, and smooth small pits — all characteristics inherent in high quality dried plums.

Other commercial varieties produced in California are Imperials, Robes de Sergeant, Sugar, and other varieties, all of which constitute less than one percent of the state's production.
California Dried Plum Board - www.californiadriedplums.org