FIGS
See also: Fig Article 2 - Figs, Nutritional Powerhouse; Fig Trivia - Kitchen Tips
ig Quotes
Figs, one of mankind's oldest fruits, is only now receiving its due attention in homes across the United States. Although considered a fruit, the fig is actually a flower inverted into itself. They are the only fruit to ripen on the tree. Originally native from Turkey to northern India, the fig fruit spread to many of the Mediterranean countries. The primary producers of dried figs today are the United States, Turkey, Greece, and Spain. This highly nutritious fruit arrived in the United States by Spanish missionaries settling in Southern California in 1759. Fig trees were soon planted throughout the state.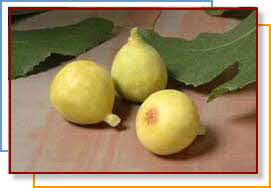 One serving of figs is 40 grams, about ¼ cup, or about 3 Calimyrna figs or about 4 to 5 Mission figs. Figs are high in fiber, providing 20% of the Daily Value — more dietary fiber per serving than any other common dried or fresh fruit.

Varieties
There are hundreds of fig varieties but the following are most commonly found in today's markets.

The Calimyrna Fig: Is known for its nut-like flavor and golden skin. This type is commonly eaten as is.

The Mission Fig: Was named for the mission fathers who planted the fruit along the California coast. This fig is a deep purple which darkens to a rich black when dried.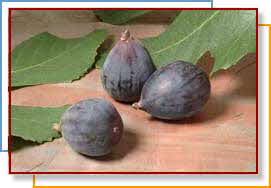 The Kadota Fig: Is the American version of the original Italian Dattato fig, that is thick-skinned with a creamy amber color when ripe. Practically seedless, this fig is often canned and dried.

The Brown Turkey Fig: has copper-colored skin, often with hints of purple, and white flesh that shades to pink in the center. This variety is used exclusively for the fresh fig market.
Availability
Fresh figs are available July through September. Dried figs are never out of season, and are available all year. You can find them in your favorite grocery store in the produce or dried fruit section.
Selection
Look for figs that are soft and smell sweet. Handle carefully because their fragile skins bruise easily.

Storage
Store fully ripened figs in the refrigerator up to 2 days; bring to room temperature before serving.

Using Dried Figs As a Replacement For Fat in Your Recipes
Dried figs are excellent replacement for fat in baked goods. Just remember when using dried figs to replace shortening or oil in baking do not overmix or overbake. Use only half of the normal amount of shortening, margarine, butter or oil, in a recipe when using dried puree. For instance, if 1 cup of margarine is called for, use only ½ cup. Then use ½ of the fig puree.

Here's a simple fig puree recipe to include in your baking recipes.
Fig Puree Recipe
Makes about 1½ cups
2 cups dried figs
¾ cup water
2 tsp vanilla
Puree figs, water and vanilla in blender or food processor. Use as directed.

Nutritional analysis per serving: Calories 178, Protein 2g, Fat 1g, Calories From Fat 4%, Cholesterol 0mg, Carbohydrates 44g, Fiber 9g, Sodium 9mg.

Make Figs Part of Your 5 A Day Plan
Take some figs in a plastic bag to the office, to school, to the game or park, for a quick snack. They are easy to eat and satisfies a sweet tooth.
Keep a container of figs in a desk drawer at work, to get rid of late afternoon munchies, or to include during your coffee break.
Slice a few figs and add to your tossed green salads. They add sweetness and texture, as well as fiber.
Serve mashed or cubed winter squash or sweet potatoes with some chopped figs. The figs are rich on their own, so skip the butter or margarine.
Use fig puree as a fat substitute in recipes.