CHERRIES
(Rosaceae)
By Jennifer A. Wickes
Other Articles by Jennifer A. Wickes
Recipes below
History / Geography
Cherries have been known to date back as early as 300 BC. They were given their name after a town, Cerasus, in Turkey.
During the Middle Ages, it was decided that cherries should be eaten at the beginning of the meal. Cherries were thought to be a "cold" fruit that lowered the body temperature and would make people susceptible to fevers.

Varieties / Season
May to August
Sweet: These are larger, firmer and heart shaped. They can be eaten fresh or cooked. They are a dark red to purple shade.
Bing, Lambert, Tartarian and Royal Ann.
Sour: These are smaller, softer and rounder. They are great for pies and jams.
Early Richmond, Montmorency, Morello.

How to Choose
Choose brightly colored cherries that are shiny and plump. The sweet cherries should be firm, and the sour cherries should be semi-firm. Cherries with a stem last longer.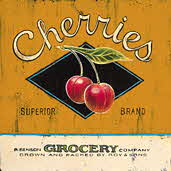 How to Store
Store unwashed in a plastic bag in your refrigerator.

Wine
French Columbard

Hints
If you don't have a cherry pitter, use a straw instead to help push the pit out!

To maintain their color when baking (cakes, cookies, muffins etc.) use buttermilk or sour cream for some of the milk in the recipe.

Spices
Allspice, cardamom, cinnamon, mace and nutmeg.

Equivalents / Substitutions
1 pound = 3 cups stemmed = 2 1/2 cups pitted
10 oz. frozen = 1 cup
16 oz. can = 1 1/2 cups drained
More Information www.califcherry.com

RECIPES
TRADITIONAL CHERRY PIE
Yields: 8 servings

4 cups frozen unsweetened tart cherries
1 cup granulated sugar
3 tablespoons quick-cooking tapioca
1/2 teaspoon almond extract
Pastry for 2-crust, 9-inch pie
2 tablespoons butter or margarine

Combine cherries, granulated sugar, tapioca and almond extract in a large mixing bowl; mix well. (It is not necessary to thaw cherries before using.) Let cherry mixture stand 15 minutes.

Line a 9-inch pie plate with pastry; fill with cherry mixture. Dot with butter. Adjust top crust, cutting slits for steam to escape.

Bake in a preheated 400 degree oven 50 to 55 minutes, or until crust is golden brown and filling is bubbly.
Cherry Marketing Institute

CHERRY WALNUT DIVINITY
Yields: 12 servings
INGREDIENTS
2 egg whites
1/8 teaspoon salt
1 cup candied cherries -- Chopped
3 cups light brown sugar
1 cup water
1 cup chopped walnuts
1 teaspoon vanilla
1 cup corn syrup

Boil sugar, syrup, salt, and water to firm ball stage (248 F). Pour slowly, beating constantly, over stiffly beaten egg whites. Beat until candy begins to stiffen. Add candied cherries, flavoring, and nuts. Drop by teaspoonfuls onto waxed paper, or pour into well-buttered pans. When cold cut in squares.

CHERRY SCONES
by Jennifer A. Wickes ®2002
Yields: 8 servings
INGREDIENTS
2 cups all-purpose flour
1/2 cup dried cherries
1/3 cup sugar
2 teaspoons baking powder
1/4 teaspoon salt
1/3 cup unsalted butter
1 large egg -- beaten
1/2 teaspoon vanilla extract
1 teaspoon almond extract
1/4 cup heavy whipping cream
1/4 cup buttermilk
1/2 cup sliced almonds

1 large egg -- beaten
1 tablespoon heavy cream

Preheat oven to 375 °F (190 °C) with rack in center of oven. Line a baking sheet with parchment paper or lightly spray with a non-stick vegetable oil. To make the glaze, mix together the beaten egg with the cream. Set aside.

In a large bowl, combine the flour, sugar, baking powder and salt. Cut the butter into small pieces and blend into the flour mixture with a pastry blender, two knives, or fingertips. This mixture should look like coarse crumbs. In a small measuring cup, combine the whipping cream, buttermilk, beaten egg, vanilla and almond extracts. Make a well in the center of the dry ingredients and add the liquid, stirring with a wooden spoon until the batter forms moist clumps. The batter will be sticky. Do not overmix. Carefully, add the dried cherries.

Gather dough together with your hands and transfer to a lightly floured surface. Gently knead for about 10 seconds until dough forms a ball and is smooth. Pat dough into a 7 inch (17.5 cm) circle that is about 1 inch (2.5 cm) thick. Using a sharp knife, cut circle into 8 triangular sections. With a pastry brush, brush off excess flour from scones, and place scones on prepared baking sheet. Brush the tops of scones with the glaze and sprinkle lightly with sugar (if desired). Add a few sliced almonds on top.

Bake for approximately 15 minutes, until lightly browned, or a toothpick inserted in the middle of the scone comes out clean. Remove from oven. Transfer to a wire rack to cool.

CHERRY JAM
Makes 5 to 6 cups
Serving size: 2 tablespoons
INGREDIENTS
1 1/2 pounds frozen unsweetened tart cherries
4 cups granulated sugar
1 1 3/4-ounce package powdered fruit pectin
3/4 cup water

Coarsely chop cherries, then allow to come to room temperature. Do not drain cherries; use all the juice. Combine cherries with juice and sugar; mix well. Set aside 10 minutes; stir occasionally.

Combine pectin and water; bring to boiling, stirring constantly. Boil, stirring, 1 minute. Remove from heat. Immediately stir in pectin, stirring until sugar is completely dissolved, about 3 minutes. Pour into containers to within 1/2 inch of tops. Seal with lids. Let stand at room temperature 24 hours to set.

Store in refrigerator up to 3 weeks, or freeze up to 1 year. To use, thaw in refrigerator.

With over 25 years of cooking experience and a certification in Food and Nutrition, Jennifer A. Wickes is a professional freelance food writer, recipe developer and cookbook reviewer. Her work can be found in The Library Journal, Garden Plate magazine, FoodReference.com, Ernest & Julio Gallo's Turning Leaf Wine brochure, Bon Appetit, AllRecipes.com and much more. She is working on her first cookbook.