BLUEBERRY FACTS & RECIPES
Recipes below
History / Geography
Blueberries originate from Canada and Northern United States.

Science
Vaccinium Corymbosum

Varieties
There are two main varieties of blueberries: the high bush kind, which can grow up to fifteen feet high; and the low bush kind, which can grow up to one foot.
Season
May to October
How to Select
Choose berries that are round, firm and the same size. They should have a blue-black color with a slight haze on them. Any berries that are shrivelled or moldy should be discarded immediately. Do not wash until ready to use.

Storage
Store blueberries in a single layer in a moisture proof container for five days.

Nutritional Qualities
Excellent for night vision, bladder infections, cataracts, glaucoma, constipation, cleansing the liver and adult-onset diabetes.

Trivia
Blueberries symbolize protection.

When baking with blueberries, use vinegar or lemon juice (or another acidic environment like yogurt, buttermilk or sour cream). Not doing so will result in your blueberries turning purple.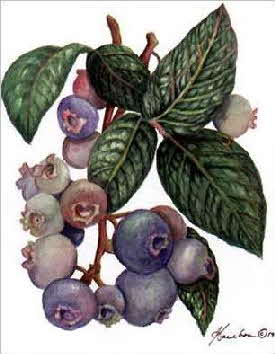 Flavor Affinities
Lemon, orange, cinnamon, nutmeg, sour cream, creme fraiche, yogurt.

Equivalencies
1 pint fresh = 2 cups
10 oz. frozen = 1 1/2 cups

Preparation
Wash thoroughly. Remove any moldy or shrivelled berries.

Additional Information (Web Site)
North American Blueberry Council www.blueberry.org/

BLUEBERRY FROZEN YOGURT
by Jennifer A. Wickes, copyright 2005
Yields: 8 servings
Ingredients
2 cups lowfat vanilla yogurt
1/2 cup whole milk
1/4 cup sugar
1 pint blueberries, pureed and strained

Directions
In a medium bowl, combine the yogurt, milk and sugar. Mix until the sugar dissolves. Then carefully add the pureed blueberries into the mix until combined. Add to your ice cream maker and allow to churn for 20 - 25 minutes. Ripen in the freezer for at least 2 hours before serving.

BLUEBERRY SCONES RECIPE
by Jennifer A. Wickes, copyright 2005
Yields: 8 scones
Ingredients
2 cups all-purpose flour
1/2 cup blueberries
1/3 cup sugar
2 teaspoons baking powder
1/4 teaspoon salt
1/3 cup unsalted butter
1 large egg -- beaten
1 tsp. lemon zest
1/2 teaspoon vanilla extract
1 teaspoon lemon extract
1/4 cup heavy whipping cream
1/4 cup buttermilk

1 large egg -- beaten
1 tablespoon heavy cream

Directions
Preheat oven to 375 °F (190 °C) with rack in center of oven. Line a baking sheet with parchment paper or lightly spray with a non-stick vegetable oil. To make the glaze, mix together the beaten egg with the cream. Set aside.

In a large bowl, combine the flour, sugar, baking powder and salt. Cut the butter into small pieces and blend into the flour mixture with a pastry blender, two knives, or fingertips. This mixture should look like coarse crumbs. In a small measuring cup, combine the whipping cream, buttermilk, beaten egg, lemon zest, vanilla and lemon extracts. Make a well in the center of the dry ingredients and add the liquid, stirring with a woodeover-mix until the batter forms moist clumps. The batter will be sticky. Do not overmix. Carefully, add the blueberries.

Gather dough together with your hands and transfer to a lightly floured surface. Gently knead for about 10 seconds until dough forms a ball and is smooth. Pat dough into a 7 inch (17.5 cm) circle that is about 1 inch (2.5 cm) thick. Using a sharp knife, cut circle into 8 triangular sections. With a pastry brush, brush off excess flour from scones, and place scones on prepared baking sheet. Brush the tops of scones with the glaze and sprinkle lightly with sugar (if desired).

Bake for approximately 15 minutes, until lightly browned, or a toothpick inserted in the middle of the scone comes out clean. Remove from oven. Transfer to a wire rack to cool.

BLUEBERRY LEMON-CURD TART
by Jennifer A. Wickes, copyright 2005
Yields: 8 servings
Ingredients
1 pint bluberries -- rinsed and drained
1 cup lemon curd
1/3 cup almond paste
3 tablespoons unsalted butter
1/2 large egg -- beaten
1/2 teaspoon vanilla extract
1/2 teaspoon almond extract
1 pie crust - prepared, not cooked

Directions
Preheat the oven to 350 and place your oven rack to the middle position.

Beat the almond paste with a mixer until smooth. Add the butter, and keep mixing. Pour the egg, vanilla extract and almond extract into the mixture and beat for about 4 minutes until light and fluffy.

Spread the mixture on top of the pie crust.

Bake in the oven for 25 minutes until the almond paste mixture is golden brown.

Allow the tart to cool completely.

Pour the lemon curd on top and spread evenly.

Add the blueberries on top.

Refrigerate for 2 hours prior to serving.

Serve with whipped cream.

By Jennifer A. Wickes - Other Articles by Jennifer A. Wickes
With over 25 years of cooking experience and a certification in Food and Nutrition, Jennifer A. Wickes is a professional freelance food writer, recipe developer and cookbook reviewer. Her work can be found in The Library Journal, Garden Plate magazine, FoodReference.com, Ernest & Julio Gallo's Turning Leaf Wine brochure, Bon Appetit, AllRecipes.com and much more. She is working on her first cookbook.
---