KIWANO MELON


African Horned Melon
Kiwano melon is an oval shaped fruit with horns on its peel. It has a bright orange and yellow skin with a pale yellow-green jelly-like flesh with large seeds. The flavor of the pulp is sweet and a bit tart with a flavor mix of bananas, lime and cucumber. They are actually a fairly bland tasting fruit.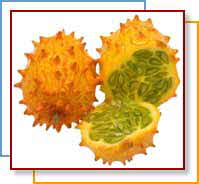 Kiwano melon is native to southern and central Africa and is commonly known as an African horned melon. Most imported melons are now from New Zealand. California has began growing this melon, so a domestic product is available part of the year.
Commercial production is limited partly because harvesting the fruit is time consuming and labor intensive. Gloves must be warn and care must be taken so neighboring fruits are not punctured with the spines. Kiwanos grow similar to cucumbers and are vigorous hearty climbers and can easily and quickly take over space.

Selection
Select melons without any bruises or spots with a bright orange color. It is best to purchase a melon that has the horns intact, as damaged horns may be a sign of rough handling. Kiwano melons are available year round in specialty markets and supermarkets.

Storage
Unripe melons may be stored at room temperature for up to two weeks. Ripe melons will last about 3 to 4 days at room temperature. There is no need to refrigerate kiwano melon.