CHERIMOYA
See also: Cherimoya Trivia; Sugar Apple Trivia

The Cherimoya (Annona cherimola) is the fruit of a small tree native to the mountains of Peru and Ecuador. This fruit is sometimes called custard apple (which is actually Annona reticulata) as are several other close relatives (sugar apple, bullock's heart, etc) causing much confusion. However the Cherimoya is the much superior fruit. These tropical fruits have long been cultivated by the indigenous peoples of South and Central America.
Cherimoyas are large and pinecone like in appearance with a green exterior, ranging in size from 1/2 lb to 5 lbs. They are juicy with a creamy white custard-like flesh and large, black seeds and taste like a combination of pineapple, mango, papaya and vanilla. They were a favorite of Mark Twain, "deliciousness itself"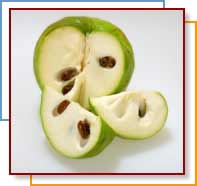 Selection, Storage, and Preparation
Cherimoyas are available November through May. Choose fruits that are yellow-green, firm and without blemishes. Dark spots and splotches should be avoided. Cherimoyas will ripen at room temperature for a few days until softened. They can then be tightly wrapped and refrigerated for up to 4 days.
Make Cherimoyas part of your 5 to 9 A Day Plan!
--The pulp of the cherimoya is the only edible part, so remove the seeds and peel before eating.
--Halve the fruit and spoon the inside from the shell
--Cherimoyas are best served well-chilled.
NUTRITION

Serving Size: ½ fruit (247g)
Amount Per Serving % Daily Value
Calories 200
Calories from Fat 15
Total Fat 1.5g 2%
Saturated Fat --g --%
Cholesterol 0mg 0%
Sodium 10mg 0%
Total Carbohydrate 48g 16%
Dietary Fiber 6g 24%
Sugars --g
Protein 5g
Vitamin A 0%
Vitamin C 50%
Calcium 2%
Iron 4%
* Percent Daily Values are based on a 2,000 calorie diet.