ROASTED WHITE PEKIN DUCKLING WITH APPLE WALNUT STUFFING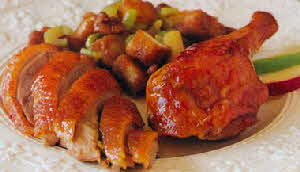 Servings: 4
INGREDIENTS
• 1 Whole White Pekin duckling
Stuffing
• 1/3 C Butter or margarine
• 1½ C Celery, diced
• 2 C Cooking apples, peeled, chopped
• 2 C Bread cubes
• 1/2 C Chopped walnuts
• 2 T Brown sugar
• 1/2 t Salt

DIRECTIONS
Preheat oven to 350° F.

1) Melt butter in medium skillet over medium heat. Add celery; sauté 3 to 4 minutes, until tender. Add apples, bread cubes, walnuts, brown sugar, and salt. Toss gently to mix.

2) Remove neck and giblets from body cavity. Rinse duckling under cold water.

3) Season with salt, pepper, and paprika. Fill body cavity loosely with stuffing. Cover opening of body cavity with aluminum foil.

4) Roast duckling uncovered, breast-side up, on rack in roasting pan, 30 minutes per pound.

5) When done, duckling temperature measured at the thigh joint should reach 180° F. The legs should move freely and the juices should run clear.

Stuffing may be cooked in a separate baking dish during the last 45 minutes of roasting.
Stuffing variations
· Wild rice, sliced mushrooms, chopped water chestnuts.
· Dried bread cubes mixed with duck stock and celery, onions, and cooked sausage
· Dried bread cubes mixed with duck stock and celery, onion, dried cherries, and pecan pieces
· Dried bread cubes mixed with duck stock and celery, onion, crumbled cornbread, sage

Recipe & photo courtesy of The Duckling Council - www.duckling.org/