HONEY-THYME DUCK BREASTS WITH ROASTED ROOT VEGETABLES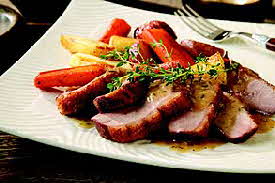 Prep time: 10 minutes
Cook time: 1 hour
Makes 4 servings

INGREDIENTS
• 1 head garlic
• 3 medium carrots, peeled and cut into 2-inch pieces
• 2 medium parsnips, peeled and cut into 2-inch pieces
• 4 small potatoes, halved
• 8 small shallots, unpeeled
• 1 tablespoon olive oil
• 8 sprigs thyme, divided
• Salt and black pepper
• 4 White Pekin duck breast halves (6 ounces each)
• 3 tablespoons honey
• 1 tablespoon red wine vinegar
• 1/2 cup chicken broth, homemade or low-sodium
• 1 teaspoon chopped thyme

DIRECTIONS
Preheat oven to 425°F. Cut top off top third of garlic head; wrap garlic in aluminum foil. Bake about 45 minutes or until soft; cool and squeeze out pulp (there should be about 1 tablespoon). Set aside. In ovenproof baking dish, toss carrots, parsnips, potatoes and shallots with olive oil, 4 of the thyme sprigs and 1/4 teaspoon each salt and pepper. Add about 1/2 cup water. Roast in 425°F about 1 hour or until vegetables are tender and lightly browned; set aside.

With sharp knife, score skin side of duck breasts in a series of parallel cuts 3/4 inch apart, without cutting into meat. Make a second series of parallel cuts perpendicular to the first to form a crosshatch pattern. Season breasts with salt and pepper. Place breasts skin side down in heavy nonstick skillet large enough to hold them comfortably in one layer; do not crowd. Cook over medium heat about 8 minutes or until fat runs out and skin is golden-brown and crisp. (Some breasts may brown more quickly than others; remove each breast as it is done.) Transfer breasts to baking dish or another skillet, skin side down, and finish cooking in oven about 8 minutes for rare, 10 minutes for medium-rare and 12 minutes for medium, turning breasts onto flesh side after 6 minutes. Let breasts rest 3 to 4 minutes before slicing.

While breasts are in the oven, pour off fat from skillet breasts were browned in. Add honey and cook over medium heat, stirring, until honey turns golden-brown. Add vinegar; simmer until syrupy. Add broth, chopped thyme and garlic pulp; simmer, whisking occasionally, until sauce thickens slightly. Keep warm over low heat.

Divide vegetables equally among 4 plates, discarding thyme sprigs. Cut each breast crosswise on a slight angle into 4 to 5 slices about 1/2-inch thick; fan 1 breast on each plate around vegetables. Spoon sauce over breasts, dividing it equally. Garnish each plate with a thyme sprig.

Nutrition Information Per Serving:
497 calories; 11 g fat; 131 mg cholesterol; 298 mg sodium; 61 g carbohydrate; 6 g fiber; 40 g protein

Recipe & photo courtesy of The Duckling Council - www.duckling.org/