WHITE PEKIN DUCKLING BREAST WITH FIGS AND GRAND MARNIER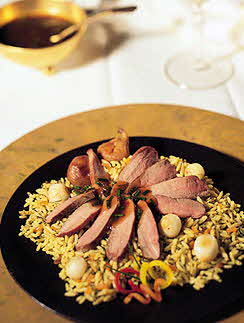 Ingredients
• 4 White Pekin boneless, skinless duckling breasts
• Salt to taste
• Freshly ground black pepper to taste
• 1 C Pearl onions, trimmed and peeled
• 8 Fresh figs, whole, washed
• 1 C Poultry or vegetable stock (low fat, low sodium recommended)
• 1/2 C Grand Marnier
• 1/2 C Fresh chives, snipped
• 4 C Cooked rice or grain pilaf mix

Directions
Preheat oven to 400°F.

1) Season duckling breasts with salt and pepper. Heat an oven-safe, non-stick skillet over high heat. Place duckling breasts smooth side down in skillet; add pearl onions. Cook duckling until browned (about 5 minutes).

2) Turn over duckling breasts and add figs. Transfer pan to the oven and cook until done, approximately 5 more minutes for medium rare.

3) Remove duckling breasts from the pan and allow to rest for 3 to 5 minutes before serving. Return skillet to the burner over high heat. Add stock and reduce until thickened to coat the back of a spoon (about 4 minutes).

4) Add Grand Marnier and reduce back to thickened (about 2 minutes). Add more salt and pepper if needed. Remove from heat and stir in chives.

5) Cut duckling into thin slices width-wise or against the grain. Position the grain mix artistically in the center of the plate. Place figs at the top of the plate. Lay duckling across the figs and the grain mix. Spoon sauce over the duckling and figs. Serve immediately.

Nutrition information: servings, 4;
calories per serving, 590; calories from fat, 90; total fat, 10 g; saturated fat, 2 g; cholesterol, 175 mg; sodium, 1240 mg; total carbohydrate, 71 g; dietary fiber, 5 g; sugars, 18 g; protein, 38 g

Recipe & photo courtesy of The Duckling Council - www.duckling.org/
Jimmy Schmidt: The Rattlesnake Cafe, Detroit