APRICOT BRANDIED WHITE PEKIN DUCKLING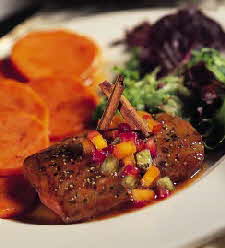 INGREDIENTS
• 4 Boneless, skinless White Pekin duckling breasts
• Non-stick cooking spray as needed
• Freshly ground pepper as needed
• 1 11½ oz. can apricot nectar
• 1/4 C Brown sugar
• 2 T Brandy (apricot is preferred)
• 1/4 t Cinnamon
• 1 T Cornstarch
• 2 T Water
• 1½ C Sweet potatoes, peeled, cut into 1/4" slices

DIRECTIONS
1) Spray both sides of duckling breasts with non-stick cooking spray; add pepper.

2) Heat large skillet over medium-high heat, add duckling, and cook 2 to 3 minutes per side or until lightly browned. Remove duckling meat, set aside.

3) Place apricot nectar, brown sugar, brandy, and cinnamon in pan to deglaze. Bring to a gentle boil.

4) Mix cornstarch with water to form a slurry. Add to pan and stir. Allow to thicken.

5) Add sweet potatoes and reduce heat to low.

6) Add duckling breasts and cook 15 to 20 minutes to desired doneness. Potatoes should be tender.

Nutrition information: servings, 4;
calorie per serving, 350; calories from fat, 25; total fat, 3 g; saturated fat, 0.5 g; cholesterol, 175 mg; sodium, 135 mg; total carbohydrate, 46 g; dietary fiber, 3 g; sugars, 33 g; protein, 33 g

Recipe & photo courtesy of The Duckling Council - www.duckling.org/