LATIN PORK BACK RIBS W/ SMOKY PINEAPPLE-MANGO SAUCE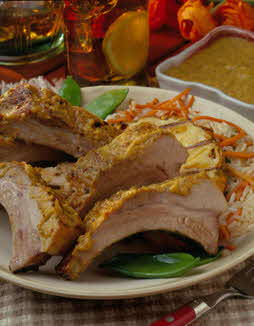 Serves 3 to 4.
Ingredients
• 3 to 4 pounds pork back ribs

Dry Rub:
• 2 tablespoons packed brown sugar
• 2 teaspoons dried oregano leaves (preferably Mexican oregano)
• 3/4 teaspoon ground cumin
• 1/2 teaspoon salt
• 1/4 teaspoon ground red pepper (cayenne)


Smoky Pineapple-Mango Sauce:
• 1/3 cup pineapple juice
• 1/4 cup vegetable oil
• 1/4 cup fresh lime juice
• 3/4 cup chopped fresh mango
• 2 tablespoons chopped fresh cilantro
• 1 tablespoon chipotle peppers in adobo sauce
• 1/2 teaspoon dried oregano leaves (Mexican)
• 1/4 teaspoon salt
• 1 clove garlic, minced (1/2 teaspoon)

Cooking Directions
In small bowl, stir together rub ingredients; rub onto all surfaces of ribs. Grill ribs over indirect* medium heat (about 350 degrees F.) for 1 hour. Place sauce ingredients in food processor or blender container; process until nearly smooth. Reserve half of sauce to serve with finished ribs. Brush remaining sauce on ribs; grill for an additional 30 minutes until ribs are tender and meat pulls from the bone. Heat reserved sauce and serve with ribs.

*To grill with indirect heat, bank hot coals on one side or in a ring around the perimeter of the fire grate. For gas grills, pre-heat and then turn off any burners directly below where the food will go. Place ribs on the grill so they are not directly over any coals or gas burners and close grill hood.
Serving Suggestions
Create a sizzlin' backyard barbecue with these spicy ribs given a Latin flavor with the fresh fruit sauce. Serve with red beans and rice and Jicama and Orange Salad.

Nutrition Facts
Calories 730 calories; Protein 38 grams; Fat 57 grams; Sodium 570 milligrams; Cholesterol 185 milligrams; Saturated Fat 18 grams; Carbohydrates 15 grams; Fiber 1 grams
Recipe and photo courtesy of National Pork Board. For more information about The Other White Meat, visit TheOtherWhiteMeat.com