BACKYARD BARBECUE SPARERIBS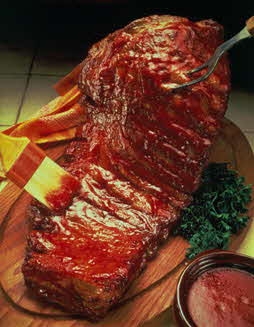 Serves 4.

Ingredients
• 2 slabs pork spareribs
• 1 cup ketchup
• 1/4 cup Worcestershire sauce
• 1 1/2 cups cherry cola soft drink
• 1/4 cup vinegar
• 2 teaspoons paprika
• 2 teaspoons chili powder
• 1 teaspoon ground black pepper
• 1 medium onion, chopped

Cooking Directions
Prepare a medium-hot banked fire in covered kettle style grill.
Cut each slab of ribs between ribs into four pieces.
Place rib-side-down over indirect heat and grill for 1 1/4 hours.
Meanwhile in a saucepan combine catsup, Worcestershire sauce, cherry cola, vinegar, paprika, chili powder, pepper and onion; simmer 10-15 minutes, stirring occasionally.
Brush ribs generously with sauce and continue to cook, about 20-30 minutes, basting and turning often, until ribs are nicely glazed.

Wine suggestion:
Serve with a chilled rose or ice cold beer.
Serving Suggestions
These classically flavored spareribs are good any time year. Serve ribs with corn on the cob, creamy cole slaw and corn muffins.

Recipe and photo courtesy of National Pork Board. For more information about The Other White Meat, visit TheOtherWhiteMeat.com