COCOA CHILE PORK RIBS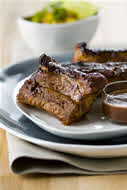 Prep Time: 10 minutes
Cook Time: 1 hour 5 minutes
Makes 6 servings.

Ingredients
• 1/4 cup firmly packed brown sugar
• 2 tablespoons unsweetened cocoa powder
• 2 teaspoons McCormick® Gourmet Collection® Garlic Salt
• 1½ teaspoons McCormick® Gourmet Collection® Chipotle Chile Pepper
• 1/2 teaspoon McCormick® Gourmet Collection® Saigon Cinnamon
• 3 pounds pork baby back ribs
• 1/4 cup apple juice
• 2 tablespoons tomato paste

Directions
1. Preheat oven to 375°F. Mix sugar, cocoa powder, garlic salt, chipotle chili pepper and cinnamon in small bowl. Reserve 1 tablespoon spice mixture for basting sauce. Rub remaining spice mixture on ribs until well coated. Place ribs in single layer on foil-lined roasting pan. Cover with foil.

2. Bake 1 hour or until meat starts to pull away from bones. Meanwhile, for basting sauce, mix apple juice, tomato paste and reserved 1 tablespoon spice mixture in small bowl.

3. Grill ribs over medium-high heat 1 to 2 minutes per side or until heated through and evenly browned, brushing with basting sauce.

Recipe from McCormick® - Spices & Seasonings