See also: Article on Shrimp
SHRIMP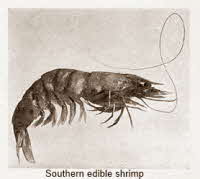 The Sneads Ferry Shrimp Festival was designated as the Official Shrimp Festival of North Carolina in 2011.

Over 1 billion pounds of shrimp is consumed each year in the U.S., almost 90% of it from Asia and Central America.
(Food Arts, 6/2009)
About 80% of shrimp consumed in the United States each year is eaten in restaurants.
Some 40% of the shrimp eaten in the U.S. is farmed raised shrimp from Asia and South America.
World shrimp production is over 5 billion pounds a year, about 20 % of which is farmed.
Salmon and shrimp are the most popular seafoods in American restaurants. In 2001, shrimp replaced canned tuna as America's favorite seafood overall.