See also: Nutmeg Trivia
MACE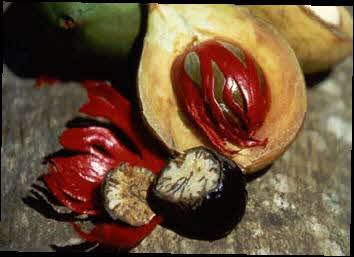 Mace is the lacy outer covering (aril) of the nutmeg seeds. When fresh, it has bright red color, which changes to a golden brown when it is dried. Its flavor has been described as a combination of: cinnamon and pepper or nutmeg and cinnamon

It takes 400 pounds of nutmegs to produce one pound of mace.

Until the 18th Century, the world's only source of Mace and Nutmeg was the area known as Indonesia. When the Dutch took control of this area, Mace and Nutmeg were among the richest prizes. Knowing these spices did not grow elsewhere, they proceeded to establish one of the tightest monopolies the world has ever known.

There is a legend that it was a Frenchman who started the erosion of Dutch control by smuggling seedlings out of the East Indies. True or not, it is a fact that a series of transplantings did occur and a number of other areas began producing these spices.