MANGO (and Green Pepper Mangos)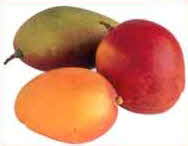 Mangos varieties can range in size from about 6 ounces to 5 pounds.
Virtually all mango crops are consumed locally.
India grows more mangoes than all of its other fruits combined.
Mango trees are long lived, with some trees over 300 years old still producing fruit.
The mango (Mangifera indica) is a tropical Asian tree of the cashew family. They are now grown extensively throughout the tropics, and are sometimes known as 'the peach of the tropics.' The spice amchoor is made from dried, ground unripe mangoes. One teaspoon of Amchur (amchoor) has the equivalent acidity as 3 Tablespoons of lemon juice.
Mangos have been cultivated in India for about 5,000 years, and were originally small, fibrous fruits, somewhat like plums, with a taste like turpentine. There are now over 500 varieties grown there.

There are 1,458 people in the U.S. listed on whitepages.com with the last name 'Mango'
(Mark Morton, 'Gastronomica', Fall 2010)
Per capita U.S. mango consumption in 2007 was 2.2 pounds. This is a 400% increase since 1990.
More fresh mangos are eaten every day than any other fruit in the world.

The 'Paisley' design motif is a design from India based on the mango.

GREEN PEPPERS AND MANGOS
The word 'mango' is used in some areas to refer to green peppers or stuffed green peppers. Pennsylvania, West Virginia, Ohio, Indiana, Illinois and Missouri are all states that I have received e-mails about grandparents, parents and even current usage of 'mango' for green pepper.

Recent information I have come across (thanks in part to an e-mail from website visitor Richard Clark) I believe explains how and why the usage of the word spread along the path it did. Usage of 'mango' for green peppers seems to have originated with coal miners in eastern Pennsylvania (1870s +) - and spread with the mining industries, and then with the miners families as they migrated to new areas and found new jobs.

But why the word 'mango' for green peppers? Many of these coal miners were of Eastern European origin, and it has been suggested that the word may have a Slovak origin.

The English 'dialect' of the Appalachian region with its unique pronunciation, grammar, and word usage is due in large part to the immigration of miners, engineers and others from so many countries coming together in one area and being relatively isolated in the small mining towns.

They came from Russia, Poland, Czechoslovakia, Hungary, Germany, Scotland, Wales, Greece, Turkey, and Syria to name a few - so the word 'mango' might have been adapted from one of these languages.

Also, in many old cookbooks, 'mango' would sometimes be used to refer to a pickle, especially of melons or cucumber (resembling pickled green mango?)

'Mango' was also a term sometimes used to refer to cantaloupe in many old cookbooks).

So the question is, are there words in any Eastern European languages for melon and/or green peppers that may sound like 'mango'?
Chef James

In the 1887 Edition of 'The Original White House Cook Book', there is a recipe for Green Pepper Mangoes.
As follows:
"Select firm, sound, green peppers, and add a few red ones,as they are ornamental and look well upon the table. With a sharp knife remove the top, take out the seed, soak over night in salt water, then fill with chopped cabbage and green tomatoes, seasoned with salt, mustard seed and ground cloves. Sew on the top. Boil vinegar sufficient to cover them, with a cup of brown sugar, and pour over the mangoes. Do this three mornings, then seal."
That is the only recipe I have seen. J.M.

This would fit in with the use of 'mango' to refer to a pickle (mentioned above) and also brings in the use of Green Peppers.
Anyone with additional information about 'mango' green peppers, please E-mail me: [email protected]
I will add any new information here as I receive it.
Chef James

8/2/2005
My cousin sent me (the Mango article) and I thought I would respond to the question about "mango" in Slavic languages. Our family originally is from northeastern Pennsylvania and my grandmother used "mango" for "green pepper." We've never been sure why. I can say that at least in Polish, Czech, Slovak and Serbo-Croatian, the word for pepper is some variation on "paprika." Slavic languages have tended to adopt the word "mango," for the mango fruit since historically it has been a non-native, uncommon fruit. In other words, the search for the origin of the use of "mango" continues.

Maybe the hypothesis about chutney is more helpful here. Since mango chutney is a fairly common type of chutney, perhaps it got shortened to "mango" in reference to all things similarly pickled. In addition to people of Eastern European background, late 19th cent. Pennsylvania also had high numbers of immigrants from the British Isles, who may have been familiar with such chutneys. One might think that "chutney" would have been the more logical adoption, but if neither mango nor chutney had any inherent meaning for a speaker of another language, it's reasonable to think that such a mistake could occur. Just a guess. By the way, in case you're wondering, the word for "pickle" in Slavic languages is nothing like "mango" either.
Hope this helps, Tammy