MANCHEGO CHEESE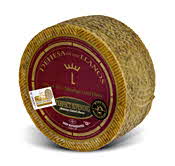 Manchego is the best known and most widely available Spanish cheese. It comes from La Mancha, the land of Don Quixote, and was originally made only from the milk of Manchego sheep. Manchego is aged for 3 months or longer, and is a semi-firm cheese with a rich golden color. It comes in a 10 inch diameter wheel, 5 inches thick with a herringbone design on the rind. It ranges from mild to sharp, depending on how long it is aged.

FOOD TRIVIA and FOOD FACTS
Please feel free to link to any pages of FoodReference.com from your website.
For permission to use any of this content please E-mail: [email protected]
All contents are copyright © 1990 - 2023 James T. Ehler and www.FoodReference.com unless otherwise noted.
All rights reserved. You may copy and use portions of this website for non-commercial, personal use only.
Any other use of these materials without prior written authorization is not very nice and violates the copyright.
Please take the time to request permission.


FoodReference.com (since 1999)
FOOD TRIVIA and FOOD FACTS SECTION