MAHI-MAHI

(mahi mahi)
Mahi-Mahi is the Hawaiian name for dolphin (the fish NOT the marine mammal!), also known as Dorado.

Most restaurants use the name Mahi-mahi rather than dolphin, so as not to have any confusion with the marine mammal of the same name.

Mahi-mahi have an iridescent blue body, and yellowish bellies; they lose their color rapidly once out of the water. Their flesh is very low fat (less than 1%), with a firm moist texture and mild, almost sweet flavor. Mahi-mahi are found in warm waters around the world.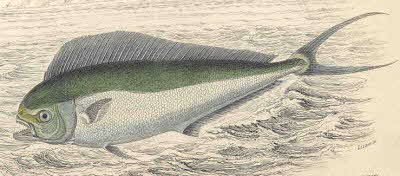 Japan catches more than 50% of the world's catch of Mahi-Mahi.

The largest dolphin caught with rod and reel weighed 87 pounds. It was caught on September 25, 1976 off of Costa Rica.