See also: Article about Nutmeg
NUTMEG TRIVIA & FACTS
Nutmeg is one of the oldest spices, and along with pepper and cloves, it has been cultivated for over 1,000 years.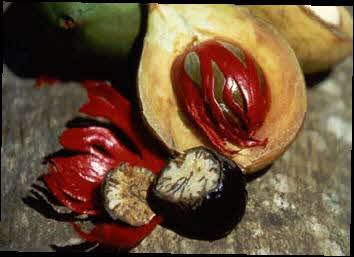 The nutmeg tree is native to the Moluccas also known as the Spice Islands of Indonesia. For hundreds of years the Dutch East India Company kept the location and cultivation of the trees a strictly guarded secret. Nutmeg is now widely cultivated throughout southern Asia, the West Indies (especially Grenada) and Brazil. The Dutch still use more nutmeg than anyone else.
Nutmeg (Myristica fragrans) is unique among spice plants, producing two distinct spices. The seed is dried, shelled and sold either whole or ground as the spice Nutmeg. The outer fleshy network is also dried and ground producing the spice know as Mace.

Connecticut is known as "The Nutmeg State" owing to the tradition that slick Yankee peddlers would sell whittled wooden "nutmegs" to unsuspecting housewives.

Please feel free to link to any pages of FoodReference.com from your website.
For permission to use any of this content please E-mail: [email protected]
All contents are copyright © 1990 - 2023 James T. Ehler and www.FoodReference.com unless otherwise noted.
All rights reserved. You may copy and use portions of this website for non-commercial, personal use only.
Any other use of these materials without prior written authorization is not very nice and violates the copyright.
Please take the time to request permission.


FOOD TRIVIA and FOOD FACTS
FoodReference.com (since 1999)
FOOD TRIVIA and FOOD FACTS SECTION