NONI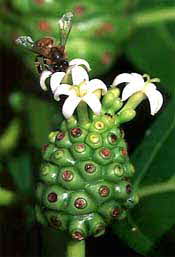 Noni or Indian Mulberry (Morinda citrofolia) is a small evergreen. The fruit of the noni resembles breadfruit only smaller, and is used throughout Southeast Asia and the South Pacific.

The aroma of the fruit has been described as 'disgusting' or worse, and its flavor also fits that description.

It is a traditional medicinal plant, and lately various noni juice products have become popular around the world.

Several countries have banned its importation, and many others have curbed marketing efforts due to fantastic health claims.