FABULOUS FLOURLESS CHOCOLATE CAKE RECIPE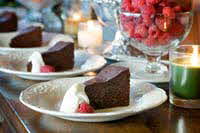 The famous rich and decadent chocolate cake named for its missing ingredient. Dense, moist and super-chocolatey.
Why try? This recipe calls for only a few ingredients—chocolate, eggs, butter, sugar and the optional black coffee—and the results are a chocoholic's dream come true.
Foodie Byte: Although the cake may not appear to be done, remove it from the oven when an instant-read thermometer registers 140°F It will continue to firm up as it cools.
Serves: 12

Ingredients
• 8 large eggs, cold
• 1 pound high quality bitter sweet chocolate, chopped coarse
• 1 pound high quality semi-sweet chocolate, chopped coarse
• 16 tablespoons (2 sticks) butter, unsalted, cut into 16 pieces
• 1/4 cup strong black coffee or liqueur (optional)
• Confectioners' sugar or unsweeted cocoa for dusting the cake (optional)

Preparation
1. Position oven rack to the lower-middle part of the oven and heat oven to 325°F.

2. Line the bottom of an 8-inch springform pan with parchment paper or waxed paper and grease the sides of the pan.

3. Beat eggs in a bowl of a standing mixer at high speed until the volume doubles, about 5 minutes.

4. Meanwhile, melt the chocolate and butter (adding the coffee, if using) in a large heatproof bowl set over a pan of almost-simmering water until smooth and very warm (about 115 degrees on a instant-read thermometer), stirring once or twice. Fold a third of the egg foam into the chocolate mixture using a large rubber spatula until only a few streaks of egg are visible; fold in half of the remaining foam, then the last of the foam, until the mixture is totally incorporated.

5. Scrape the batter into the prepared springform pan and smooth the surface with a rubber spatula. Set the roasting pan on the oven rack and pour in enough boiling water to come about halfway up the sides of the springform pan. Bake until the cake has risen slightly, the edges are just beginning to set, a thin glazed crust has formed on the surface, and an instant-read thermometer inserted halfway into the center reads 140°F, 22 to 25 minutes.

6. Cover and refrigerate overnight.

Recipe & photo courtesy of The Food Channel (www.foodchannel.com)