CLASSIC HOLIDAY WREATH CAKE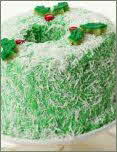 Makes 8 servings
To make this cake extra elegant, decorate with red roses and holly leaves.
Semi-Homemade Cooking
By Sandra Lee
"Sandra puts the entire American food industry to work for you. Her Semi-Homemade approach will help bring you, your family and friends back into the kitchen and to the dinner table, no matter how busy you may be." --Wolfgang Puck

HOLIDAY WREATH CAKE
INGREDIENTS
2 cups coconut
1 (1 pound) can vanilla frosting
1 (10-ounce) store-bought angel food cake
Green food coloring
1 package red hots candy

Prep time: 8 minutes

DIRECTIONS
Stir green food coloring into frosting a drop at a time until desired color is reached.

Reserve 1/4 cup of frosting for making holly leaves.

Place cake on a serving platter.

Spread frosting evenly over top and sides of cake.

Press coconut into top and sides of cake to resemble a snow drift.

Add a few drops of green food coloring to reserved frosting to make it a darker green.

Place into a piping bag fitted with a small round or star tip.

Draw holly leaves with frosting on the top of the cake. Add red hots to look like holly berries.
Copyright © 2002 Sandra Lee