See also: Bread Puddings Recipe Section
BREAD PUDDING WITH LEMON SAUCE
A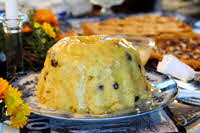 n old-fashioned steamed bread pudding flavored with lemon, nutmeg and cognac. Makes an excellent choice for a holiday dessert.
Why try? This is one incredible, classic dessert. It will melt in your mouth.
Foodie Byte: Use a pudding mold to make a beautiful presentation at the table.
Wine Pairing: Sherry Baby, Sherry! We recommend Oloroso Dulce, with a rich texture and intense flavors of nuts and coffee. The nutty flavor complements the Cognac in the recipe.
Prep Time: 30 minutes
Cook Time: 1 hour
Serves: 24

INGREDIENTS
• 1/4 cup golden raisins
• 1/4 cup muscat raisins
• 1/4 cup cognac
• 1 lemon, rind grated
• 3 cups muffin bread, crusts removed, cut into ½-inch squares
• 3 cups Italian bread, crusts removed, cut into ½-inch squares
• 3 cups whipping cream
• 1 vanilla bean, 2-inches long
• 6 eggs
• 1 cup sugar
• 1/2 teaspoon nutmeg

Lemon Sauce
• 3/4 cup sugar
• 1 1/2 tablespoons cornstarch
• 1/6 teaspoon salt
• 1 1/4 cups hot water
• 3 1/2 tablespoons unsalted butter
• 4 tablespoons lemon juice
• 3 teaspoons grated lemon rind

DIRECTIONS
1. Soak raisins in cognac with lemon rind overnight. Drain.

2. Butter and sprinkle with sugar a 2-quart covered metal pudding mold, including inside of lid. Layer the bread alternatively with the plumped raisins in the mold.

3. Scald the cream with the vanilla bean. Cool slightly. Remove vanilla bean, split it open, and scrape the seeds into the cream.

4. Beat the eggs with the sugar until light. Gradually pour in the cream. Add the nutmeg. Pour over the bread.

5. Secure lid and steam for 1 hour on a rack in a covered kettle with enough water to come 2/3 up the side of the mold. The water should simmer gently.

6. To make the sauce

7. Combine sugar, cornstarch, and salt in top of double boiler. Add hot water and cook 3 to 5 minutes, until thick. Add the butter, lemon juice, and rind and continue cooking until smooth.

8. To serve, unmold warm pudding onto a serving plate and serve with a bowl of lemon sauce.

Recipe & Photo courtesy of the FoodChannel.com