See also: Article on Sweet Peppers
GREEN PEPPERS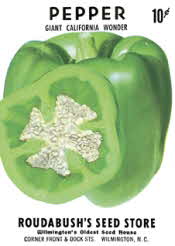 Green Peppers, especially stuffed Green Peppers were known as 'Mangos' in many areas.
'Mango' was also the term sometimes used for cantaloupe in many old cookbooks.

See Peppers for information on the colors of peppers, the question of 3 or 4 lobes and are there male & female peppers?

For 'Green Pepper Mangos': See Mangos
QUESTION
Hello,
My husband and I were discussing green peppers today after buying a case at a local produce company's barn. We wondered where green peppers originated? We know that hot peppers are in all countries, from Mexico to the Asiatic countries. But where did the green bell peppers originate? Thanks so very much, Cait

ANSWER
Hello Cait,

All vegetable peppers, both sweet peppers (bell peppers, of all colors) and hot peppers (chili peppers) originated in the Americas. They were widely cultivated in both Central and South America before Columbus arrived (probably as early as 5000 BC). Columbus took seeds back to Spain from the Caribbean in 1493 and the plants spread rapidly throughout Europe and then the rest of the world. There are now over a thousand varieties, and are used in virtually all of the world's cuisines.

It was the hot peppers (chili peppers) that impressed Columbus. (Actually, the mild 'sweet' bell peppers were not developed until much later). Columbus was thought they were related to the spice 'pepper' since they were also hot and spicy. That is why they called them 'peppers.' (They are actually not even remotely related to the spice 'pepper').
Chef James, FoodReference.com
Please feel free to link to any pages of FoodReference.com from your website.
For permission to use any of this content please E-mail: [email protected]
All contents are copyright © 1990 - 2023 James T. Ehler and www.FoodReference.com unless otherwise noted.
All rights reserved. You may copy and use portions of this website for non-commercial, personal use only.
Any other use of these materials without prior written authorization is not very nice and violates the copyright.
Please take the time to request permission.
FOOD TRIVIA and FOOD FACTS
CULINARY SCHOOLS
& COOKING CLASSES
From Amateur & Basic Cooking Classes to Professional Chef Training & Degrees
FoodReference.com (since 1999)
FOOD TRIVIA and FOOD FACTS SECTION