See also: Article about Grouper
GROUPER
Grouper is the common name for numerous members of marine fish in the sea bass family. They commonly grow to 50-100 pounds (they can reach up to 750 pounds), but most market fish are about 5 to 20 pounds.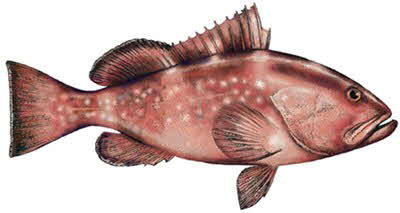 Grouper may be found along coastal areas around the world, especially in the Gulf of Mexico, the Caribbean and the Mediterranean.
Common varieties are the Red Grouper, Nassau Grouper, and Black Grouper; the Goliath Grouper (previously called Jewfish) can reach up to 750 pounds. Many grouper can change color, depending on their surrounding. They are also very friendly fish, and can frequently handled and also fed by hand.
Grouper are predatory fish and, especially larger fish, are on the top of the list of fish likely to cause ciguatera poisoning - so stick with fish in the 5 pound range. Grouper are highly valued as a food fish, with firm, lean flesh that is suitable for almost any type of cooking.
A record grouper caught with rod and reel weighed over 436 pounds. The fish was caught in Destin, Florida on December 22, 1985.

Please feel free to link to any pages of FoodReference.com from your website.
For permission to use any of this content please E-mail: [email protected]
All contents are copyright © 1990 - 2023 James T. Ehler and www.FoodReference.com unless otherwise noted.
All rights reserved. You may copy and use portions of this website for non-commercial, personal use only.
Any other use of these materials without prior written authorization is not very nice and violates the copyright.
Please take the time to request permission.
FOOD TRIVIA and FOOD FACTS
CULINARY SCHOOLS
& COOKING CLASSES
From Amateur & Basic Cooking Classes to Professional Chef Training & Degrees
FoodReference.com (since 1999)
FOOD TRIVIA and FOOD FACTS SECTION