GROUSE
The Ruffed Grouse (Bonasa umbellus) was designated as the Official Game Bird of Pennsylvania in 1931.

The largest member of the grouse family, the Capercaillie are almost 3 feet in length. They became extinct in Great Britain by 1785 due to over-hunting and forest clearing. but in 1830 were reintroduced to Britain with birds from Sweden. By the mid 20th century their numbers were back up in the tens of thousands but today they are again in danger of extinction in Britain.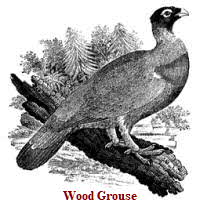 Grouse, popular game birds, are members of the order Galliformes, and are related to quail, turkeys and domestic poultry. Grouse are found around the world in the Northern Hemisphere. The most popular North American species is the ruffed grouse, also known (incorrectly) as the 'partridge' in the North and as the 'pheasant in the Southern U.S. In the same family are the capercallie (the largest), the prairie chicken and the ptarmigan.

Ruffed Grouse average 1 to 2 pounds, with dark meat and a rich gamey flavor.

Kansas has the largest population of wild grouse (prairie chicken) in North America.

Please feel free to link to any pages of FoodReference.com from your website.
For permission to use any of this content please E-mail: [email protected]
All contents are copyright © 1990 - 2023 James T. Ehler and www.FoodReference.com unless otherwise noted.
All rights reserved. You may copy and use portions of this website for non-commercial, personal use only.
Any other use of these materials without prior written authorization is not very nice and violates the copyright.
Please take the time to request permission.
FOOD TRIVIA and FOOD FACTS
CULINARY SCHOOLS
& COOKING CLASSES
From Amateur & Basic Cooking Classes to Professional Chef Training & Degrees
FoodReference.com (since 1999)
FOOD TRIVIA and FOOD FACTS SECTION