See also: Borage Cooking Tips
BORAGE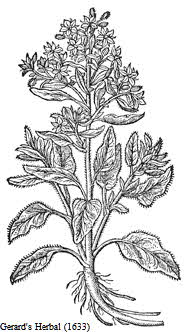 Borage (Borago officinalis) also known as Starflower, is an annual herb with hairy gray-green leaves. The whole plant has a cucumber odor and flavor. Its bright blue star-shapped flowers are a favorite of honey bees. The flowers may occasionally be white or pink.

Borage is native to the Mediterranean region and has been used in cookery since the Middle Ages.

Borage leaves have been used to brew tea for hundreds of years.

In England the leaves are a common garnish for drinks such as Claret Cup, Pimm's No.1 and cold punches.

It was thought that when given to prospective husbands, it would give them the courage to propose.

Borage was also favored by soldiers before a battle and travelers before a journey.

CAUTION: Mature borage leaves contain small amounts of liver-toxic alkaloids and should be used in moderation.

CULINARY SCHOOLS
& COOKING CLASSES
From Amateur & Basic Cooking Classes to Professional Chef Training & Degrees - Associates, Bachelors & Masters - More than 1,000 schools & classes listed for all 50 States, Online and Worldwide
FOOD TRIVIA and FOOD FACTS
Please feel free to link to any pages of FoodReference.com from your website.
For permission to use any of this content please E-mail: [email protected]
All contents are copyright © 1990 - 2023 James T. Ehler and www.FoodReference.com unless otherwise noted.
All rights reserved. You may copy and use portions of this website for non-commercial, personal use only.
Any other use of these materials without prior written authorization is not very nice and violates the copyright.
Please take the time to request permission.
FoodReference.com (since 1999)
FOOD TRIVIA and FOOD FACTS SECTION