ALASKA TRIVIA
FARMS & FARMERS
Alaska: approximate land area of 366,013,154 acres. Farmland is 881,585 acres or 0.2% of total land. Organic agriculture accounts for about 442 acres.
Number of Farms: 686
Principle Farm Operators: Men: 518 Women: 168
(2013 - USDA Economic Research Service: www.ers.usda.gov )
[2007-2008 latest available data]
POPULATION & HUNGER
Alaska has a total population of: 722,718
Urban population: 486,708
Rural population: 236,010
Food insecure households*: 13.9%
Households with very low food security*: 4.8%
*Food insecurity - Limited or uncertain availability of nutritionally adequate and safe foods or limited or uncertain ability to acquire acceptable foods in socially acceptable ways.
Very low food security - At times during the year, eating patterns of one or more household members were disrupted and food intake reduced because the household lacked money and other resources for food.
(2013 - USDA Economic Research Service: www.ers.usda.gov )
(Population & Food Security data: 2011)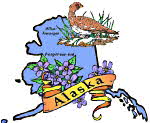 Alaska Strawberries: This is a facetious nineteenth-century American euphemism for 'dried beans', which need some work to make them an into appealing meal.
The largest private industry employer in Alaska is the seafood industry.

Most of America's catch of salmon, crab, halibut, and herring come from Alaska.

During the Alaskan Klondike gold rush, (1897-1898) potatoes were practically worth their weight in gold. Potatoes were so valued for their vitamin C content that miners traded gold for potatoes.

A single Alaskan King Crab can yield over 6 pounds of meat. They can have more than a 6 foot leg span.

The King (Chinook) Salmon (Oncorhynchus tshawytscha) is the State Fish of Alaska.

The Moose (Alces alces) was designated the Official Alaska Land Mammal in 1998.
Hooch or hootch is an American slang word popular during prohibition for illegally produced alcoholic liquor. It is also a colloquialism for cheap liquor.

The word originated in the late 19th century in Alaska. A small Tlingit tribe, the Hutsnuwu (Hoochinoo) Indians lived on Admiralty island, south of Juneau, and were distilling their own alcoholic liquor from molasses in the late 19th century (they probably learned the distillation process from American trappers). The product became known as 'hoot-chinoo', 'hooch' or 'hootch', and a 'Report on the Population of Alaska' published with the 1890 U.S. census, stated that the cause of 'nearly all the trouble in this country' was 'hoochinoo' or 'hooch'.