See also: Tuna Recipes and Seafood Articles
ALBACORE TUNA
Albacore tuna (Thunnus alalunga) are found in both the Pacific and Atlantic oceans. There are two populations of albacore in the Pacific, one below and one above the equator (although there is an unconfirmed theory of two northern populations).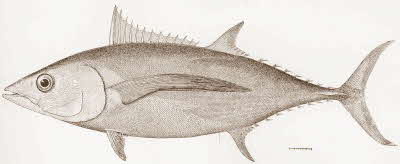 Albacore tunas range from 24-36 inches in length and weigh 20-40 pounds. They can probably live to 10 years, maturing around five. Albacore are dark blue on top, with a lighter underbelly. They are found in temperate waters and live longer and grow more slowly than tropical tunas.
Although albacore steaks are available, most of the albacore sold in U.S. markets is the higher-priced canned variety; not your average tunafish, albacore has a mild flavor and is labeled as 'white.'
Albacore, sometimes called tombo, is the only tuna allowed to be labeled as "white tuna." Albacore cannot be filleted like other fish because of its unusual bone structure and the soft consistency of its meat; this means fresh or frozen albacore is available only as loins/steaks.
Albacore are currently overfished in the Atlantic and fully-fished in the Pacific.
(Seafood Choices Alliance - www.seafoodchoices.com)
A record albacore that weighed 88 pounds was caught off the Canary Islands.