See also: Agriculture
ALFALFA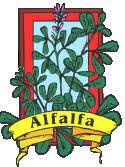 Alfalfa (Medicago sativa) is a legume in the Pea Family. It is also know as lucerne.
Alfalfa is supposedly the oldest know plant used for livestock feed, with records of its use as early as 1,000 BC in the Middle East.
Alfalfa is the primary HAY crop grown in the United States.


Alfalfa has a root system that can reach down more than 40 feet, and is very drought resistance. Alfalfa is one of the most nutritious fodder crops, and is also an excellent honey crop for bees. Alfalfa sprouts are used in salads, and the leaves may also be used raw or cooked as a vegetable.

Because of its rapid recovery and growth after cutting, it is possible to obtain as many as a dozen crops of hay in one season.
Alfalfa fixes nitrogen in the soil, making it also a valuable crop for improving soil nutrition.